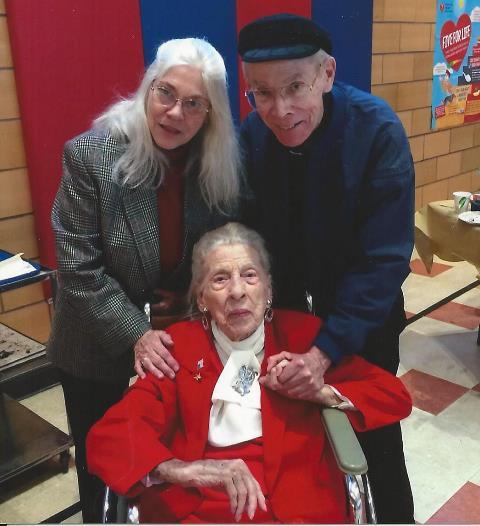 Earlier this year, in January, a Birthday Mass was celebrated for Miss Esther Ellspermann, a parishioner at Saint Wenceslaus Church in Saint Louis, Missouri, who is 100 years young. In just a couple of months, she will be 101! Affectionately known as Queen Esther and loved by all, she recently shared with us some details about her fascinating life. 
What is your birthdate?
January 13, 1915.
Where were you born?
In the same house where I live now in Saint Louis, Missouri. It was built 149 years ago.
Who was the U.S. president when you were born?
Woodrow Wilson.
Who was the pope when you were born?
Pope Benedict XV (not Pope Benedict the XVI!).
Where were you baptized?
I was baptized in Saint Agnes Church at 1935 Sidney Street. Unfortunately, the parish is now closed. I became a parishioner of Saint Wenceslaus Church when I was in my 20s because the church had an 11:00 a.m. Mass, and I like to sleep late.
How many siblings do you have?
I have four sisters and four brothers; nine of us total. I am the youngest, and, yes, the only one still alive. I am German on both sides of my family. My mom's maiden name was Mary Wilhelmina Schmitz. She married Mr. John Ellspermann, Jr.
Where did you go to school?
I graduated from Saint Agnes Grade School, Roosevelt High School, and Harris Teachers College which is now Harris-Stowe State University.
What is your favorite memory as a child?
All family gatherings, especially picnics.
Do you have a favorite color?
No, not really. I like all colors, as long as they are bright.
Do you listen to music?
Oh yes, classical music. Classical music is the best.
What was your favorite decade and why?
The 1940s was my favorite. I was in the WAVES from 1942 – 1945, Women Accepted for Volunteer Emergency Service. WAVES was part of the Navy, and I was in the first group of women to work for our Armed Forces. It was an exciting time to be alive!
First, I went to military school in Lexington, Virginia, and then I served in several capacities. I inspected aircraft at the Bureau of Aeronautics in Columbus, Ohio; worked in the Code Room in Philadelphia; assisted at the Naval Hospital in Astoria, Oregon; and met President Harry Truman in Saint Louis at the Naval Air Station at Lambert Field.
My prized memory was my encounter with President Truman. The WAVES at Lambert Field had lined up to meet the President. He shook my hand and he did so with others, but not all. He seemed to be in a hurry. He was getting ready to leave, and I said, "Just a moment, Mister President, won't you shake hands with the other ladies?"
He came back and exchanged handshakes with all the girls!
What in life is most important to you?
Teaching kids. Before and after WAVES, I worked for Clinton Peabody School. I taught first and second grade students for 39 years. I had the privilege to teach a total of 1,390 children.
One first grader wrote to me 35 years after I was his teacher. His mother saved the letters I had written to her, and he found the letters and enjoyed them so much that he contacted me.
One student would send pussy willows to me every spring because he appreciated the thank you letters I had written to him. I make it a point to write a thank you letter for every gift received.
When all is said and done, however, my favorite school activity was putting together the All School Christmas Play every year.
How is the world different today than when you were growing up?
It's not safe. When I was a young lady, I could go anywhere alone in Saint Louis, even at night, and I always felt safe. Not anymore.
If you could change the world today, what would be the first thing you would do?
I would end the abortion holocaust. This is a great tragedy.
If God said that He would grant you one wish, what would it be?
That's easy! Eternal salvation.
What is your secret to living to 100?
Try not to worry! I stay active by throwing parties. I love parties.
Have you been single all of your life?
Of course! I am an Unclaimed Treasure. (+JMJ+)
Mass Cards: Request Perpetual Mass Enrollments or Mass Intentions for Your Loved Ones.