The Missionaries of the Holy Family are happy to celebrate Masses for all of your intentions. We will also send personalized Mass Cards. Please encourage your family and friends to request our Masses and Mass Cards, too.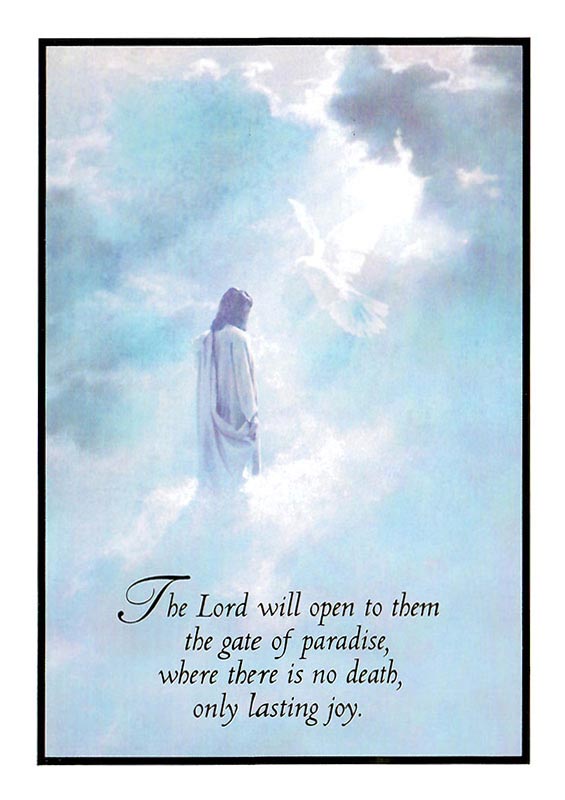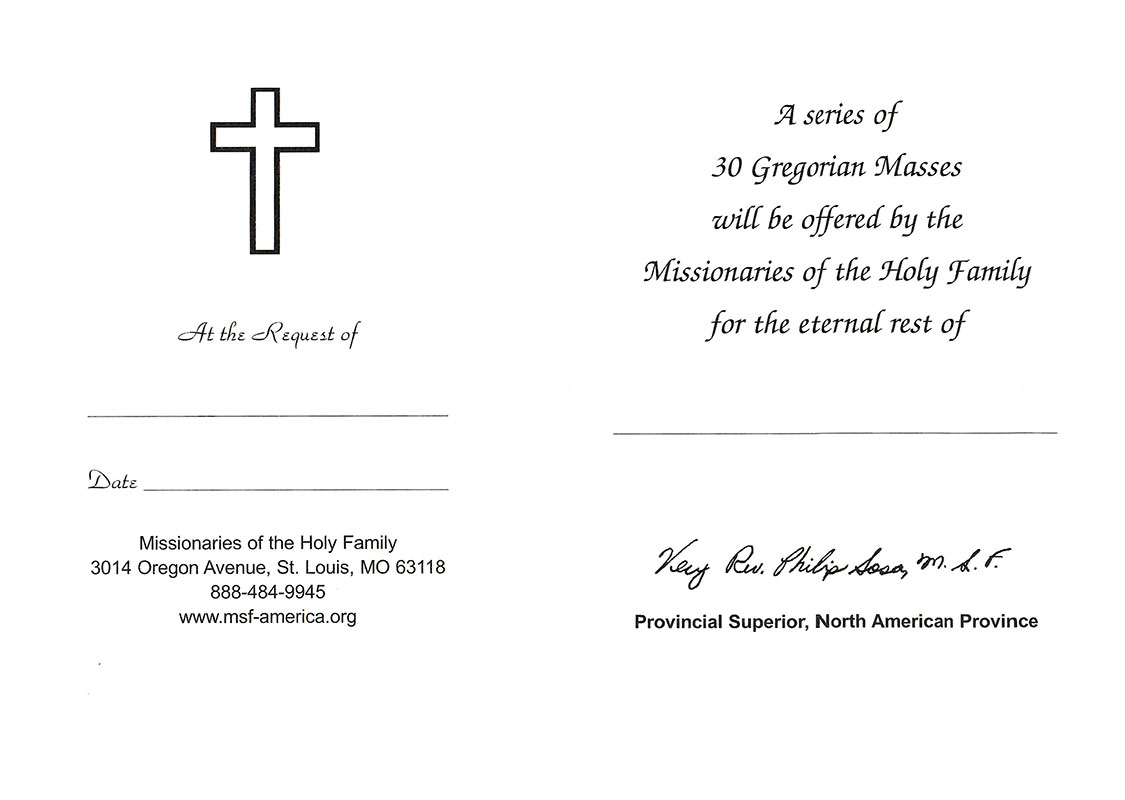 We take requests for Gregorian Masses, thirty (30) consecutive Masses celebrated for the release of a Holy Soul in Purgatory as recommended by Pope Saint Gregory the Great. We send these requests to our Motherhouse in Rome, or to a papal agency in New York City for help in distributing Masses to missionary priests around the world.
Mass Requests and Mass Offerings are sent to Rome and New York City on the second and fourth Fridays of every month. The celebration of Masses will then begin approximately 30 days after the date they were sent out from Saint Louis.
Add your intentions via our Online Mass Request or the printed Mass Intention Request Form (see below).
The minimum suggested donation for a series of Gregorian Masses is $200. 
Requesting Gregorian Masses is easy!
Online: You can make an Online Mass Request. We will also send a Mass Card to you or an alternate address that you provide. Rest assured that recipients of a Mass Card will not be added to our mailing list. Or, see below if you prefer to request Gregorian Masses via the postal mail.

By Mail (online is our fastest option): Please print the Mass Intention Request Form. Then mail the completed form, along with your Mass Offering (see form for details), to the Missionaries of the Holy Family, 3014 Oregon Avenue, Saint Louis, Missouri 63118-1412.
A missionary priest in a poor country, often in a remote area, will celebrate your Request for Gregorian Masses. These priests depend on Mass Offerings for food and clothing. Please watch our 2-minute "Family Moment" video produced for EWTN, Praying for the Souls in Purgatory.
Your offering to the Missionaries of the Holy Family benefits the pastoral work of our priests and brothers. The Missionaries of the Holy Family is a 501(c)(3) non-profit organization, and your gift is tax deductible. Your privacy is important to us, so we do not sell, share, or trade your personal information.
More information about Mass Intentions and Stipends is available here.
Our Catholic Faith: Catechism of the Catholic Church (Vatican Website)
Our Videos on the Eternal Word Television Network (EWTN): YouTube Videos of "Family Moments" on EWTN
God bless your family! +JMJ+