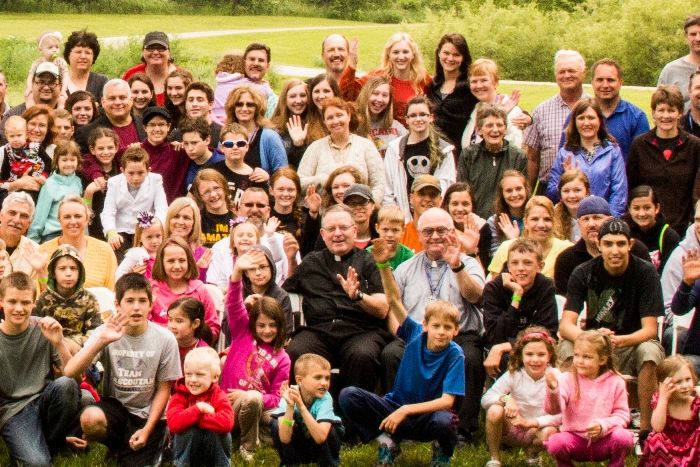 If I told you there was a place where you could go during the summer to grow mentally, morally, and physically -- all while playing your favorite sport, meeting new friends, and growing stronger in your faith – you'd think I'm crazy. The crazy thing is, there actually is such a place, and it's in Bloomingdale, Ohio.
It's quite a trip for us, about eight hours from our home, but we make it fun. We usually get a hotel in Ohio Friday night, because it all begins Saturday. You're probably wondering, "What is this place?" It's called Catholic Family Land, and it is run by the Apostolate for Family Consecration.
I know, I know, it's a really corny name. The first thing that comes to your mind is probably some weird amusement park with rides like "The Jesus and Mary-go-round" or the "Rosary roller coaster," but it's really not like that at all. It's one of the coolest places you'll ever experience.
When I went for the first time, I was five years old, and I didn't really like it, mostly because I didn't know anybody. Once I started making friends, it got better every year. They have three waterslides (one is 900 feet long!), two swimming pools, a basketball court, a tennis court, a baseball field, a soccer field, a huge auditorium, a massive jungle gym, horses, over 80 cabins, a snack shack, and two sand volleyball courts.
When we arrive Saturday afternoon, we get all of our stuff unpacked into our cabin, and then go to opening Mass at 6:00 p.m. There are young adult programs for ages 13 – 24 called Marads, short for St. Maria Goretti, St. Aloysius Gonzaga, and St. Dominic Savio.
Sunday is a huge Mass that lasts about two hours, and then there's free time for families to enjoy themselves. Monday through Friday there is Daily Mass, and programs for kids, teens, and adults from 10 a.m. to 12:00 noon.
Monday night is the Bonfire Rosary, where we have a huge bonfire and roast S'mores on long sticks. Tuesday is the famous volleyball tournament, any many would say it is the biggest event of the week. On Wednesday is the basketball tournament, the baseball tournament, and the chess tournament.
Thursday is the last full day, and Thursday night is Banner Night, where the new families make a banner and present it to the 800+ people in attendance. Friday is Closing Mass, then everyone packs up, says their goodbyes, and leave for home. It's usually pretty depressing when the week is over, but it's exciting at the same time because everyone leaves on a spiritual high, and they can't wait for next year!
Some of the awesome experiences that my family and I especially enjoy at Catholic Family Land include playing in the volleyball tournament, making new friends with Catholic families just like us, seeing lives change on Wednesday night in Eucharistic Adoration, and, most of all, growing closer as a family.
We have been going to Catholic Family Land for 11 years now, and it gets better every year. Please consider joining us every summer with your family. For more information, call 1-800-773-2645, send an e-mail to info@afc.org, or visit the website at www.afc.org.
God bless your family! +JMJ+
[Written by Catholic Youth for Christ.]
Mass Cards: Request Perpetual Mass Enrollments or Mass Intentions for Your Loved Ones.