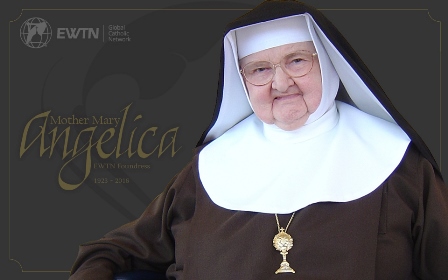 At the end of his weekly general audience on Wednesday, March 30, Pope Francis pointed to the sky and said, "Mother Angelica is in heaven." The Holy Father gave his blessing and made the remark to members of EWTN's Rome Bureau as he greeted the faithful in St. Peter's Square. The staff had brought with them an image of EWTN's founder as a sign of affection and remembrance for Mother Angelica after she passed away on Easter Sunday at the age of 92. Catholic News Agency's Rome correspondent, Elise Harris, has more here.
The Holy Father's tribute comes as thousands from all over the world pay their respects. Pope Emeritus Benedict XVI said the timing of Mother Angelica's death on Easter Sunday was "a gift", while Vatican spokesman Father Federico Lombardi described Mother Angelica as "a great witness and a missionary apostle" and recalled his joy at meeting her several years ago.
In an editorial for L'Osservatore Romano, EWTN's chairman and chief executive Michael Warsaw said Mother Angelica's whole life reflected her "unconditional 'yes' to God and her unshakable trust in Providence." He added that the network's growth in recent years is due to her "ceaselessly" watching over it with her prayers. Meanwhile, details have also emerged of Mother Angelica's heroic last three days, as recounted by EWTN Chaplain Father Joseph Wolfe.
Suffering for Jesus Christ and His Church
In a moving account in Al.com, Father Wolfe said Mother Angelica had instructed her nuns to do everything to keep her alive, no matter how much she suffered, because every day she suffered, she suffered for God. She was in excruciating pain on Good Friday, Father Wolfe said, and pointed to the meaning of the word: "Ex, from, cruce, from the cross. Excruciating pain."
But after the 3 o'clock hour arrived on Good Friday "she was more calm, she was more peaceful," Father Wolfe recalled. He said she died on Easter Sunday afternoon surrounded by nuns and priests.
"It was in the afternoon that Father Miguel and I went to her bed at the Hour of Mercy, at 3 o'clock," he said. "We had just finished praying the Divine Mercy Chaplet. We all continued to pray silently around her bed. Then it was shortly before 5:00 p.m. that she went to the Father's House. She breathed her last."
Cardinal George Pell, Prefect of the Vatican Secretariat for the Economy, will celebrate a Memorial Mass for the Poor Clare Nun at the Vatican on Easter Friday, April 1, the day of her funeral at the Shrine of the Most Blessed Sacrament in Hanceville, Alabama. +JMJ+
[This article is by Mr. Edward Pentin of the National Catholic Register.]
Mass Cards: Request Perpetual Mass Enrollments or Mass Intentions for Your Loved Ones.