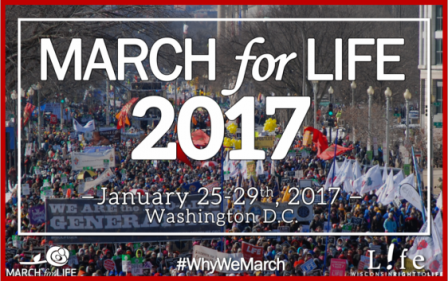 Join us Friday, January 27, for the March! The March for Life vision is a world where every human life is valued and protected. Our mission is to provide all Americans with a place to testify to the beauty of life and the dignity of each human person. Every January, on the anniversary of legalized abortion in the United States, and throughout the year, we bring together pro-life leaders and groups to unite around a common message. We communicate this message to the government, the media, and the nation in a way that is powerful and life affirming. 
The History of March for Life
January 22, 1973 is ingrained in the minds of pro-lifers because on that tragic, historic day, the Supreme Court invalidated 50 state laws and made abortion legal and available on demand throughout the United States in the now-infamous decisions in Roe v. Wade and Doe v. Bolton.
The March for Life in Washington, D.C. began as a small demonstration and rapidly grew to be the largest pro-life event in the world. The peaceful demonstration that has followed on this somber anniversary every year since 1973 is a witness to the truth concerning the greatest human rights violation of our time, legalized abortion on demand.
At the 40th anniversary of the Roe v. Wade decision, we mourned the death in 2012 of Nellie Gray, the founder of the March for Life and the "Joan of Arc" of the pro-life movement. In October 1973, months after the Roe and Doe decisions, a group of 30 pro-life leaders gathered in Nellie's home in Washington, D.C. to discuss how to commemorate the one-year anniversary of Roe. There was a fear that January 22 would pass as any other day rather than allow for a moment to reflect upon how legalized abortion had hurt women and taken babies' lives over the course of the year. That was the day plans began for the first March for Life.
© March for Life. All Rights Reserved.