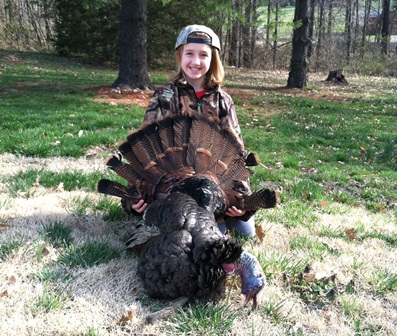 Miss Brianna: I started hunting when I was about nine years old. Before I went hunting for the first time, my stepdad Andrew and my dad Rich took me to a farm to practice shooting. After I learned the gun rules and how to aim, we all prayed a Hail Mary for a safe hunting experience. My dad was not able to join us on my first hunt, but he has taken me on other hunting trips since it is something we really enjoy doing together.
On my first day hunting, Andrew and I woke up at 4:00 a.m., got ready, and headed out to the property to look for wild turkeys. I remember praying on my way there for our safety. While we were driving, I looked at the thousands of stars in the sky and thought just how beautiful they were. Every time I hunt, I remember that moment and think about how God created all of those stars.
By the time we got to our hunting grounds, I was already dead tired from having to wake up so early! But my adrenaline was pumping because I was so excited. When hunting, we have to be extremely quiet so the turkeys and deer will not hear us. In silence, I thought about what I should be doing, and we sat under a tree for a moment and prepared ourselves.
Talking Turkey
While we were waiting, I was holding onto my Scapular and praying. While I was praying an Our Father, a large turkey walked right in front of us! With my hands shaking, I quickly finished my prayer and held the gun close to my face. Then the turkey walked right in front of my scope. With my breath caught up in my throat, I uttered another short prayer, and pulled the trigger.
The gunshot echoed through the woods, and the turkey dropped! I sat under the tree shocked. God had definitely helped me to get my first turkey. I was so excited that as soon as Andrew took the gun, I ran out to the turkey and started yelling "Thank You!" into the sky. Andrew came over to me, and he picked up the turkey. We went home feeling blessed.
God helped me so much with something I love to do, and I know He will always be there to help you, too. Just keep Him in the center of everything you do. God bless your family.
+JMJ+
The Turkey Hunter, by Miss Brianna, appeared in The Messenger magazine.
Mass Cards: Request Perpetual Mass Enrollments or Mass Intentions or Gregorian Masses for Loved Ones.