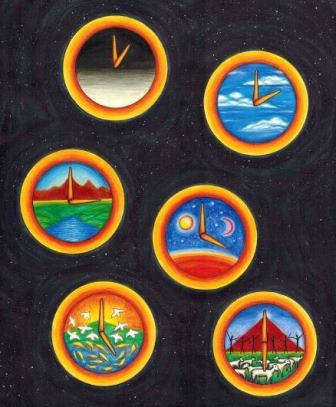 18 I consider that the sufferings of this present time are not worth comparing with the glory about to be revealed to us. 19 For all creation awaits with eager expectation for the revelation of the children of God.

 20 For creation was subjected to futility, not of its own will but by the will of the one who subjected it, in hope 21 that creation itself will be set free from its bondage to decay and will obtain the freedom of the glory of the children of God. 22 We know that all creation has been groaning in labor pains even until now; 23 and not only that, but we ourselves, who have the first fruits of the Spirit, groan within ourselves while we wait for adoption, the redemption of our bodies.
+JMJ+
The New Testament of Jesus Christ
Letter to the Romans 8:18-23

© Illustration by Jason Koltuniak. All rights reserved.
From the scriptural counting book, Counting on Faith, from Divine Providence Press.
 Mass Cards: Request Perpetual Mass Enrollments or Mass Intentions or Gregorian Masses for Loved Ones.