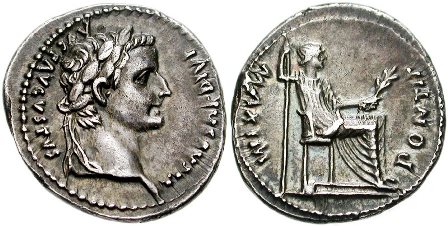 15 The Pharisees went and took counsel on how to entangle Jesus in his speech.16 And they sent their disciples to him, along with the Herodians, saying, "Teacher, we know that you are true, and teach the way of God truthfully, and care for no man; for you do not regard the position of men. 17 Tell us, then, what you think. Is it lawful to pay taxes to Caesar or not?"

Show Me the Money
18 But Jesus, aware of their malice, said, "Why put me to the test, you hypocrites? 19 Show me the money for the tax."
And they brought him a coin. 20 Jesus said to them, "Whose likeness and inscription is this?"
21 They said, "Caesar's."
Then he said to them, "Give to Caesar what belongs to Caesar, but give to God what belongs to God."
22 When they heard it, they marveled; and they left him and went away.
+JMJ+
 The New Testament of Jesus Christ
Gospel of Matthew 22:15-22

© Image from Classical Numismatic Group. All rights reserved.

 Mass Cards: Request Perpetual Mass Enrollments or Mass Intentions or Gregorian Masses for Loved Ones.