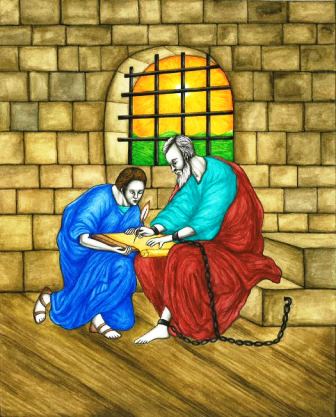 1 I, Paul, a prisoner for the Lord, beg you to lead a life worthy of the calling to which you have been called, 2 with all humility and gentleness, with patience, bearing with one another in love, 3 making every effort to maintain the unity of the Spirit in the bond of peace.
One God and Father of All
 4 There is one body and one Spirit, just as you were called to the one hope of your calling, 5 one Lord, one faith, one baptism, 6 one God and Father of all, who is above all and through all and in all.
7 And each of us has been given grace according to the measure of Christ's gift.
+JMJ+
The New Testament of Jesus Christ
Letter to the Ephesians 4:1-7

© Illustration by Jason Koltuniak. All rights reserved.
From the scriptural counting book, Saved by the Alphabet, from Divine Providence Press.
Mass Cards: Request Perpetual Mass Enrollments or Mass Intentions or Gregorian Masses for Loved Ones.