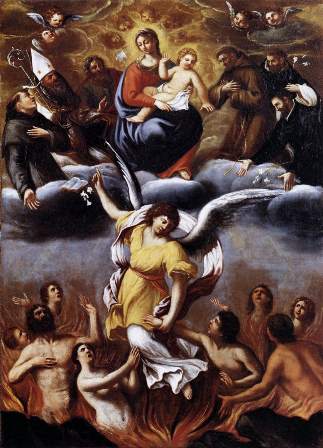 25 Descriptive and Clear Bible Passages about Purgatory -- Psalm 66:12 (RSV) "Thou didst let men ride over our heads; we went through fire and through water; yet thou hast brought us forth to a spacious place." This verse was considered a proof of purgatory by Origen and Saint Ambrose, who posits the water of baptism and the fire of purgatory.
A Spirit of Burning
Isaiah 4:4 When the Lord shall have washed away the filth of the daughters of Zion and cleansed the bloodstains of Jerusalem from its midst by a spirit of judgment and by a spirit of burning. (compare 1:25-26; 6:5-7; Ecclesiastes 12:14)
Saint Augustine, in the 20th book of his City of God, chapter 25, interprets this as purgatory. The preceding verse refers to the saved ("called holy" and "recorded for life") and verses 5 and 6 describe the repose of the blessed.
Micah 7:9 I will bear the indignation of the Lord because I have sinned against him, until he pleads my cause and executes judgment for me. He will bring me forth to the light; I shall behold his deliverance. (compare Leviticus 26:41, 43; Job 40:4-5; Lamentations 3:39)
Saint Jerome considered this verse a clear proof of purgatory.
Malachi 3:3 He will sit as a refiner and purifier of silver, and he will purify the sons of Levi and refine them like gold and silver, till they present right offerings to the LORD.
Origen, Saint Irenaeus, Saint Ambrose, Saint Augustine, and Saint Jerome all thought this was a description of purgatory.
Interceding for the Dead
2 Maccabees 12:44-45 For if he were not expecting that those who had fallen would rise again, it would have been superfluous and foolish to pray for the dead. But if he was looking to the splendid reward that is laid up for those who fall asleep in godliness, it was a holy and pious thought. Therefore he made atonement for the dead, that they might be delivered from their sin. (compare 1 Corinthians 15:29)
The Jews offered atonement and prayer for their deceased brethren, who had clearly violated Mosaic Law. Such a practice presupposes purgatory, since those in heaven wouldn't need any help, and those in hell are beyond it.
Matthew 5:22 But I say to you that every one who is angry with his brother shall be liable to judgment; whoever insults his brother shall be liable to the council, and whoever says, "You fool!" shall be liable to the hell of fire.
St. Francis de Sales commented:
It is only the third sort of offence which is punished with hell; therefore in the judgment of God after this life there are other pains which are not eternal or infernal, — these are the pains of Purgatory. (The Catholic Controversy translated by Henry B. Mackey, Rockford, Illinois: TAN Books, 1989 [orig. 1596], 373)
Matthew 5:26 truly, I say to you, you will never get out till you have paid the last penny.
The "prison" alluded to in verse 25 is purgatory, according to Tertullian, Saint Cyprian, Origen, Saint Ambrose, and Saint Jerome, while the "penny" represents the most minor sins that one commits.
Matthew 12:32 And whoever says a word against the Son of Man will be forgiven; but whoever speaks against the Holy Spirit will not be forgiven, either in this age or in the age to come.
If this sin cannot be forgiven after death, it follows that there are others which can be, and this must be in purgatory: precisely the interpretation of Saint Augustine, Pope Saint Gregory the Great, the Venerable Bede, and Saint Bernard, among others.
Saved through Fire
1 Corinthians 3:11-15 For no other foundation can any one lay than that which is laid, which is Jesus Christ. Now if any one builds on the foundation with gold, silver, precious stones, wood, hay, straw – each man's work will become manifest; for the Day will disclose it, because it will be revealed with fire, and the fire will test what sort of work each one has done. If the work which any man has built on the foundation survives, he will receive a reward. If any man's work is burned up, he will suffer loss, though he himself will be saved, but only as through fire.
This is a clear and obvious allusion to purgatory. Thus thought Saint Cyprian, Saint Ambrose, Saint Jerome, Pope Saint Gregory the Great, Origen, and Saint Augustine, who wrote with his usual insight:
because it is said, he shall be saved, that fire is thought lightly of. For all that, though we should be saved by fire, yet will that fire be more grievous than anything that man can suffer in this life whatsoever.  (Expositions on the Psalms, 38, 2)
Hebrews 12:14 Strive for peace with all men, and for the holiness without which no one will see the Lord. (compare  12:1, 5-11, 15, 23; Ephesians 5:5; 1 Thessalonians 4:3; 1 John 3:2-3)
Blessed John Henry Cardinal Newman observed (as an Anglican):
Even supposing a man of unholy life were suffered to enter heaven, he would not be happy there; so that it would be no mercy to permit him to enter... There is a moral malady which disorders the inward sight and taste; and no man labouring under it is in a condition to enjoy what Scripture calls the fulness of joy in God's presence... (Sermon on this verse: "Holiness Necessary for Future Blessedness," 1834)
Nothing Unclean Shall Enter
Revelation 21:27 But nothing unclean shall enter it, nor any one who practices abomination or falsehood, but only those who are written in the Lamb's book of life.
The abundance of scriptural evidence for purgatory led to a consensus among the Church fathers: summarized by Protestant church historian Philip Schaff:
These views of the middle state in connection with prayers for the dead show a strong tendency to the Roman Catholic doctrine of Purgatory. (History of the Christian Church, vol. 2, "Ante-Nicene Christianity: A. D. 100-325," 5th edition, New York: 1889; ch. 12,  sec. 156, 604-606)
+JMJ+
© National Catholic Register, 7 May 2017, Dave Armstrong,
"25 Descriptive and Clear Bible Passages about Purgatory."
"A Family Moment" 2-minute video: Praying for the Souls in Purgatory.
Mass Cards: Request Perpetual Mass Enrollments or Mass Intentions or Gregorian Masses for Loved Ones.