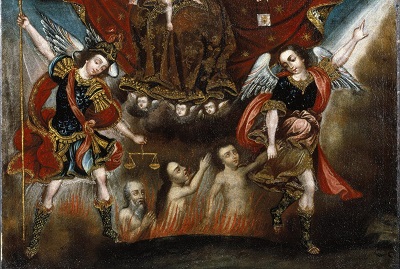 Turning to supplication, they prayed that the sinful deed might be fully blotted out. The noble Judas exhorted the people to keep themselves free from sin, for they had seen with their own eyes what had happened because of the sin of those who had fallen. He then took up a collection among all his soldiers, amounting to 2,000 silver drachmas, which he sent to Jerusalem to provide for an expiatory sacrifice.
Atonement: Old Testament
In doing this he acted in a very excellent and noble way, inasmuch as he had the resurrection in mind; for if he were not expecting the fallen to rise again, it would have been superfluous and foolish to pray for the dead. But if he did this with a view to the splendid reward that awaits those who had gone to rest in godliness, it was a holy and pious thought. Thus he made atonement for the dead that they might be absolved from their sin.
According to the grace of God given to me, like a wise master builder I laid a foundation, and another is building upon it. But each one must be careful how he builds upon it, for no one can lay a foundation other than the one that is there, namely, Jesus Christ. If anyone builds on this foundation with gold, silver, precious stones, wood, hay, or straw, the work of each will come to light, for the Day will disclose it.
Revealed by Fire: New Testament
It will be revealed with fire, and the fire [itself] will test the quality of each one's work. If the work stands that someone built upon the foundation, that person will receive a wage. But if someone's work is burned up, that one will suffer loss; the person will be saved, but only as through fire.
All who die in God's grace and friendship, but still imperfectly purified, are indeed assured of their eternal salvation; but after death they undergo purification, so as to achieve the holiness necessary to enter the joy of heaven.
Catechism of the Catholic Church
(reference numbers 1030 – 1032)
+JMJ+
Mass Cards: Request Perpetual Mass Enrollments or Mass Intentions or Gregorian Masses for Loved Ones.
Our Catholic Faith: Catechism of the Catholic Church (Vatican Website)
What You Can Do: Praying for the Souls in Purgatory: 2-minute video
Our Videos on the Eternal Word Television Network (EWTN): YouTube Videos of "Family Moments" on EWTN