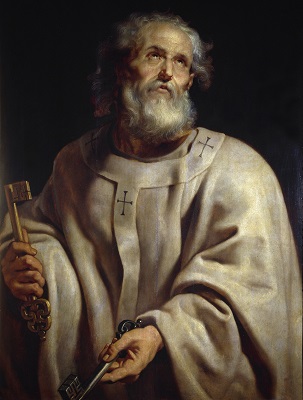 "Always pray for the dead. If deceased persons are prayed for by offering the Eucharist or by any prayer and have no further need of purification, the prayers are not unavailing. The deceased in heaven receive an increase in their intimacy of God's love and an increase in their own intercessory power." – Saint Thomas Aquinas (who called this "accidental glory") Excerpt from the book, Day by Day for the Holy Souls in Purgatory, by Susan Tassone © 2014.
Holy Souls Garage & Bake Sale
These words of Saint Thomas Aquinas were so profound to me that they would become the central goal for all of our works contributing to the release of the Poor Souls in Purgatory (also referred to as Holy Souls).
Following the example of friends, I began to learn more about the Poor Souls, and my family began to contribute to their release by having Masses said for them through the Mission Office of the Diocese of La Crosse, Wisconsin.
As time went on, it started to occur to me that so much more could be done. I began to ponder what more my family could do to help the Poor Souls. One day, as I sat at the kitchen table wondering and asking what could be done, I spotted an item I never use. Why not sell it and have the Poor Souls benefit from the sale? So my friends and I came up with the idea for the "Holy Souls Garage & Bake Sale."
Since seven is traditionally considered the number of perfection in the Bible, our first goal was to raise $777.77. When it was all done, we had achieved our goal. The end of the sale was marked by a flock of nearly 100 seagulls circling overhead, and we understood that as a sign of many souls flying to heaven. God was pleased. So we did it again.
Raising the Bar 
Each time we raised our goal, until it was eventually $7,777.77, which is seven times our original goal. We added an army tent and then another army tent. We sold a car and a boat. Each time the sale gets bigger, more people donate, more people buy items, more Masses are celebrated, and, ultimately, more souls are released from Purgatory.
This special event has overtaken my small lot and surrounded my whole house. Volunteers come from many parishes to help set up, donate, sell stuff, buy stuff, and to take down.
We find additional ways to make money with the left over items. If there are other charities that can benefit from anything we have, then we contribute to those charities, such as Soles for Souls, a baby blanket quilting charity, the Saint Francesca Resource Center of the Church of Notre Dame in Chippewa Falls, Wisconsin, and many more.
The Benefits 
During one sale, we were chatting and came up with a list of those who benefit from the Holy Souls Garage & Bake Sale. Here is our list:
(1) The Holy Souls in Purgatory. Our work in itself is a prayer for them, and they benefit when Masses are celebrated because they move closer to Heaven or are released into Heaven.
(2) The volunteers, donors, and customers. No matter in what capacity we can help the Poor Souls, they are eternally grateful, and they will pray for those who help them.
(3) The poor in mission territories. They benefit from the actual money raised because the resources are distributed to the missionary priests who serve them.
(4) The priests in mission territories. They don't always have money to buy bread and wine for the consecration at Mass, and this provides what they need for celebrating Masses (their most important duty!).
(5) Our own community. The Poor Souls can intercede for us and pray for us (remember, they are eternally grateful).
(6) The entire world. Every person, the Body of Christ, benefits when one Mass is celebrated.
It occurred to me, at one point, how important it is to financially support missionary priests because if one Mass is not said due to the lack of bread and wine, the whole world suffers. This is unacceptable!
Interacting with Customers
When customers come to our sale, I have to fight the urge to not talk about the Poor Souls. This is a battle at the beginning of each sale, but God strengthens me and I find it easier and easier to defend the Doctrine of Purgatory that is so important for our times.
When customers arrive, I say, "Welcome to the Holy Souls Garage & Bake Sale." I ask their names and then inquire if they have ever been to our sale or if they know how it works. Usually people will say "No," or they will ask for an explanation.
So I tell them, "We are raising money to have Masses celebrated for the release of Holy Souls in Purgatory. The money is sent to missions around the world, through the Diocese of La Crosse. Missionary priests will celebrate Masses for the Souls in Purgatory and then use the money for the poor people they serve in whatever capacity needed. You get what you want, and you pay what you want. If you have any questions, please let me know. Enjoy shopping!"
When they are ready to check out, I always ask them if they have any Poor Souls for which they would like a Mass celebrated. Many will give one or two names, and some will just say "No, we're good."
Sometimes it has been a great opener for conversations. People will talk about death and eternity, and they receive some healing in knowing that our prayers are with them. Most people are quite generous, and we have successfully raised over $10,000.00 in total from all five of our sales.
The Mission Continues 
Being open about our mission for the Poor Souls is exciting. It has helped to educate people in our community, even Catholics, on the great need to help our brothers and sisters who are suffering, in the state of purification, and waiting for their release into Heaven.
Please pray, pray, pray for Poor Souls and have many Masses celebrated for the living and the deceased. Ask your departed loved ones to intercede for you, visit a cemetery, and make the Sign of the Cross whenever you pass a grave or a cross seen from a highway.
Next time you are Christmas or birthday shopping, remember a Mass is a great gift for the person who has everything. The Mission Office at your own diocese is a great place to begin. Or, have your own Holy Souls Garage & Bake Sale! God bless the Poor Souls, and God bless everyone who will read this article.
+JMJ+
© Original article in The Messenger magazine from the Missionaries of the Holy Family, Saint Louis, Missouri. All rights reserved. 2019.
Mass Cards: Request Perpetual Mass Enrollments or Mass Intentions or Gregorian Masses for Loved Ones.
Our Catholic Faith: Catechism of the Catholic Church (Vatican Website)
Our Videos on the Eternal Word Television Network (EWTN): YouTube Videos of "Family Moments" on EWTN