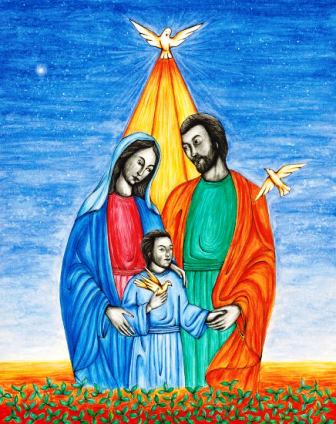 Father Jean (John) Berthier, a Missionary of La Salette, was thinking of redefining vocations to allow those who wanted to become priests, but who were unable to do so because of age or the lack of economic means, to be able to follow their calling. The Missionaries of La Salette did not have the financial means to open a seminary for late vocations. So, Father John Berthier, with the approval of his superiors, founded a congregation under the patronage of the Holy Family on September 28, 1895: The Missionaries of the Holy Family.
Venerable John Berthier
Due to the hostility of the Third Republic in 1895, all religious congregations were expelled from France. Fortunately, this enabled many congregations in the nineteenth century to take root all over the world. Father Berthier opened his first apostolic school for late vocations in Grave, Holland. His first vocations came in 1905. The body of Father Berthier now rests in the community cemetery of the La Salette Shrine on the Holy Mountain in France.
Together, we pray for the beatification of our Father Founder. We are seeking a miracle through the intercession of Father Berthier who has been proclaimed Venerable by Pope Francis. It is up to us today to continue to implement the charism of our congregation: Family, Vocations, and Missions!
Prayer for Beatification
Father, source of all grace, who has given to your servant, Venerable John Berthier, in his exemplary life, the gifts of prayer and apostolic zeal: to spread the name of your Son among the nations, to increase the number of religious and missionary vocations, and to extend the spirit of the Holy Family to families and peoples -- give us the grace, we beg you, to have Venerable Berthier listed among the saints of your Church. May his exemplary life and apostolic zeal lead us to seek your glory and the salvation of your people. We ask this through Christ, Our Lord. Amen.
+JMJ+
© Article excerpts by Very Rev. Edmund Michalski, M.S.F. All Rights Reserved. Original Article Here.
© Illustration: Jason Koltuniak. All Rights Reserved, Counting on Faith.

Mass Cards: Request Perpetual Mass Enrollments or Mass Intentions or Gregorian Masses for Loved Ones.
Our Catholic Faith: Catechism of the Catholic Church (Vatican Website)
Our Videos on the Eternal Word Television Network (EWTN): YouTube Videos of "Family Moments" on EWTN