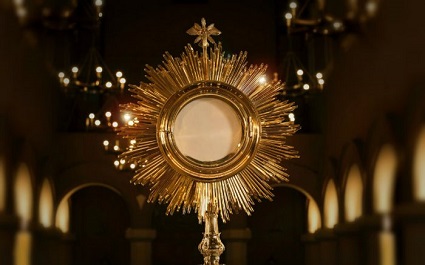 I'll never forget the day.  It was around 2006 - 2007. It had been only a matter of time since I stumbled into making a general confession at the Newman Center on the University of Missouri's campus because of Our Lady's intercession. Still grasping and feeling my way through much bewilderment due to such a dramatic turn of events in my life, God managed to direct me to the Church that day. To be honest with you, I can't recall why I went there or how I found out about it. I assume it was to receive the sacrament of confession again.
I Did Not Realize 
I do remember sitting there in the pews in the middle of the Church with only a few other people around. The Newman Center was staffed by Dominican Priests, and one of them silently sat in the back looking towards the altar.  I looked around at the few people sitting in the body of the Church and kept looking back towards the priest, wondering what we were supposed to be doing. After the third or fourth time looking back at father, I suspect he got a little perturbed. He probably wondered why I wasn't facing the altar.
Here's the deal: the reason I wasn't facing the altar is because I didn't realize what was going on there.
For whatever reason, (and there were probably a multitude of them) I was blind to the reality taking place. Just naturally though, picking up on the fact that the priest faced that way, I turned around… partly due to the fact that I didn't want to be an annoyance to the priest.
Catching on to the general direction of everyone in the Church, I looked at the altar.  When I looked at the altar, I noticed that there was a golden instrument of some sort standing erect in the middle of it – this drew my attention. Finally, as if in slow motion, I looked towards the middle of said golden instrument and I saw the Eucharist.
What Did I Believe? 
Once again, to be completely honest with you, I was extremely unsure of what I believed about the Eucharist up until that point. I went to Catholic schools for the majority of my life and was an altar server for many years.  For whatever reason, the Eucharist was not a living reality in my understanding. I was one of those people who treated the Eucharist, as Our Lord once told Saint Faustina, as "a dead object" (Diary, 1385).
Then I experienced the "Eucharistic pop." The Eucharistic pop wasn't audible, but if I may say so, it was one of the loudest things that's ever happened to me. All of a sudden, as in the moment of a thunderclap, my eyes were opened and I knew exactly what everyone was doing in the Church: they were adoring and worshiping Jesus Christ, the King of Kings and Lord of Lords.
Face to Face with God 
Looking at the Eucharistic Lord in the monstrance, I now knew a Person was there. I knew that this Person was just as real as any living, breathing person around me. To my astonishment, I heard deeply within my soul, "the Eucharist is a Person."
That moment left such an imprint, that eventually, I began attending daily Mass, making a daily Holy Hour, joining the seminary, and becoming a Catholic Priest. I've been ordained for four years now. The greatest treasure of my life is being in union with the Eucharistic Lord, whether receiving Him in the Holy Sacrifice of the Mass or spending intimate hours with Him in the tabernacle or monstrance.
I share this story because I want every Catholic on the face of the Earth to experience the Eucharistic pop. I know from personal experience that many, many people, even those who go to Mass every Sunday for many years still haven't experienced this for whatever reason.
The steps I give you are simply what made it happen for me: go and make a heartfelt, sincere and soul-searching confession, receive Jesus as often as you can in a state of grace, and finally spend time with Him outside of Mass, whether in the tabernacle or in an adoration chapel near you.
Spending time with Jesus outside of Mass will awaken you to the reality that this He is a Person, and that time is to be spent with, not a dead object, but the living and glorious Lord!
"Blessed is he who takes no offense at me." (Matthew 11:6)
+JMJ+
Article Copyright © ChurchPOP. All Rights Reserved. Original article here.
Author Copyright © Father Gabriel Lickteig. All Rights Reserved.
Image: Needpix.com: Public Domain / ChurchPOP. 
Mass Cards: Request Perpetual Mass Enrollments or Mass Intentions or Gregorian Masses for Loved Ones.
Our Catholic Faith: Catechism of the Catholic Church (Vatican Website)
Watch all of our 2-minute, family life videos on the Eternal Word Television Network (EWTN).