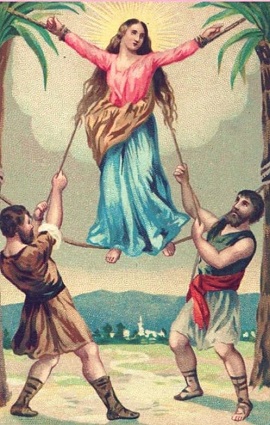 NOTE: To make a memorial gift in honor of +Rev. James E. Wuerth, M.S.F., please click here.           ††† Saint Corona: Are people turning to a little known Catholic saint during this coronavirus pandemic? Yes! As the world finds itself in the grip of the global Covid-19 Pandemic, many people are discovering and turning to a little known, second-century, Catholic saint named Saint Corona.
Corona the Martyr 
While little is known about the life of Saint Corona, it is generally accepted that she was martyred during the reign of Emperor Antoninus in the year 165 A.D. in Damascus.
The most common pious legend around Saint Corona involves another saint, Saint Victor, a Roman soldier of Italian ancestry, who was stationed in Damascus. Saint Victor was tortured for refusing to renounce his faith, including having his eyes gouged out, before ultimately being beheaded.
While Saint Victor was being tortured, the 16-year-old Saint Corona comforted and prayed for him. Because of this, she was arrested and interrogated by the Romans and found to be a Christian. According to some accounts, Saint Corona was tied between two bent palm trees and torn apart as the trunks were released. Her relics were transferred to Aachen around 1000 A.D. by Emperor Otto III.
Saint Corona, pray for us! 
During the Middle Ages, she was often invoked by treasure hunters, likely due to her name, which means "Crown," as coins of the time would often feature the crown of the ruler who issues them. Saint Corona's feast day, along with Saint Victor, is May 14. Saint Corona, pray for us!
⇒ Also, read the proclamation for the National Day of Prayer for Sunday, March 15, 2020.
+JMJ+
Article Copyright © uCatholic.com. All Rights Reserved. Original article here.
Author Copyright © Ryan Scheel. All Rights Reserved.
Mass Cards: Request Perpetual Mass Enrollments or Mass Intentions or Gregorian Masses for Loved Ones.
Our Catholic Faith: Catechism of the Catholic Church (Vatican Website)
Watch our 2-minute, Family Moment videos on the Eternal Word Television Network (EWTN).