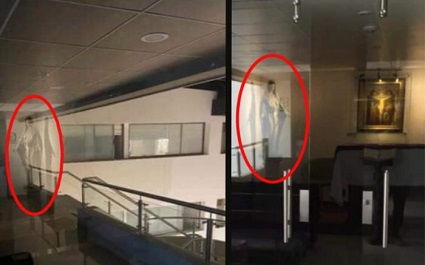 Virgin Mary Allegedly Appears to Coronavirus Patients in Colombian Hospital: According to accounts from a hospital in Bogotá, Colombia, witnesses believe the Virgin Mary allegedly appeared to Covid-19 patients. The Colombian television program, Primer Impacto of Univisión, reported the alleged apparitions. The photographs show Our Lady in the hospital's chapel and corridor.
Our Lady Visits the Sick 
Employees of the Reina Sofía Clinic in Bogotá say that Our Lady visits the sick. Here is the May 11 Facebook video explaining the alleged apparitions. A doctor said he took the images at the end of his night shift. He noticed a figure in unusual places, including at a corridor and in the chapel.
Witness William Pinzón said he is certain that it is the Virgin Mary. He explains that the second image seen in the hallway is much clearer. "She largely manifests herself and does not manifest herself on the floor, she manifests herself levitating – she never touches the floor," he explains.
Crying with the Virgin Mary 
"You cry a lot because she cries," says María Francia, Casita de la Virgen director. "She is visiting the sick in the world of Covid-19, because it hurts her. She is a loving mother," she emphasizes.
Meanwhile, Primer Impacto spoke with photographer Fernando Vergara, who explained, "It is evident that the clinic's chapel is surrounded by glass, which becomes a reflective surface. If there were no Virgin Mary in the chapel, we would be clearly talking about an apparition."
Whether it is an apparition or an optical effect, this reminds us that Our Lady is always close in our pain, especially during the Covid-19 pandemic.
Our Lady, Health of the Sick, pray for us!
+JMJ+
Article Copyright © ChurchPOP. All Rights Reserved. Original article here.
Author Copyright © ChurchPOP Editor. All Rights Reserved.
Image: © UnivisionApp+UnivisionNow, Facebook. All Rights Reserved.
Mass Cards: Request Perpetual Mass Enrollments or Mass Intentions or Gregorian Masses for Loved Ones.
Our Catholic Faith: Catechism of the Catholic Church (Vatican Website)
Watch all of our 2-minute, family life videos on the Eternal Word Television Network (EWTN).