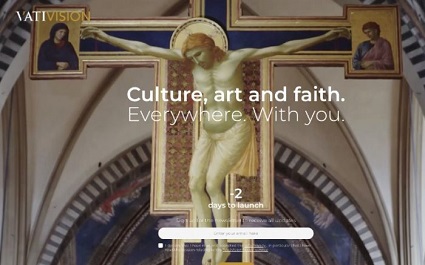 "Catholic" Netflix? New, Catholic, On-Demand, Streaming Service: VatiVision. A Catholic, on-demand, streaming service launched on Monday, June 8, according to Vatican News. The service plans to include films, television series, and documentaries about popes, saints, the Shroud of Turin, and original Vatican Media documentaries. It will be available on several streaming-capable devices, including computers, televisions, tablets, and mobile phones.
Not "Vatican Netflix"
However, despite previous claims, the platform does not aim to be the Vatican Netflix. "It is nice that this project was born from individuals who understood the importance of offering quality content linked to Catholic tradition and culture," Head of Vatican Communications, Paolo Ruffini, told Vatican News. "The Vatican looks favorably on this initiative which is not institutional. It is not a thing of the Vatican or of the Church, but of private entrepreneurs."
The service will first launch in Italy, but plans to expand to other countries, including North and South America, the Philippines, Spain, and Poland. The service will also include original content, including a film about Saint Padre Pio and the Shroud of Turin.
According to Catholic News Agency: The streaming service is a joint venture of the Italian video production company Officina della Comunicazione and digital services company Vetrya. UBI Banca is a sponsor. Officina della Comunicazione has produced content for major national and international television networks, including the History Channel.
Giving the Good News to the World 
Company CEOs Nicola Salvi and Elisabetta Sola told Vatican News that they "strongly believe in the VatiVision project and in its mission, which is to offer  a service capable of contributing through the new technologies we have at our disposal to further spread the Christian message with contents of great value and narrative depth."
+JMJ+
Article Copyright © ChurchPOP. All Rights Reserved. Original article here.
Author Copyright © ChurchPOP Editor. All Rights Reserved.
Image: © VatiVision.com Screenshot. All Rights Reserved.
Mass Cards: Request Perpetual Mass Enrollments or Mass Intentions or Gregorian Masses for Loved Ones.
Our Catholic Faith: Catechism of the Catholic Church (Vatican Website)
Watch all of our 2-minute, family life videos on the Eternal Word Television Network (EWTN).