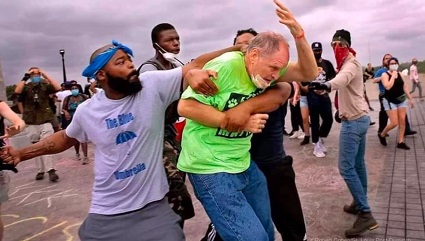 A BLM (Black Lives Matter) Mob Violently Attacks Praying Catholics: This attack happened on Saturday, June 27, at a statue protest of King Louis IX in Saint Louis, Missouri. Please pray for peace in our country! Multiple reports and videos indicate Black Lives Matter protesters allegedly attacked Catholics praying near the statue.
Who is Saint Louis?
The King Saint Louis IX of France monument depicts the saint who led the Seventh and Eighth Crusades. He is also known for his care for the poor and for fighting against the Albigensian Heresy. The Archdiocese of Saint Louis said in a press release that:
"Saint Louis is an example of an imperfect man who strived to live a life modeled after the life of Jesus Christ. He is a model for how we should care for our fellow citizen, and a namesake with whom we should be proud to identify. The sword on his statue is not raised for warfare, but rather is held with the blade down — a symbol of peace. Many miracles are attributed to his intercession."
Witnesses to the Attack 
Alleged attack witness and victim Conor Martin posted a video and description of the incident. He explains that while praying for peace and unity at the site of the Saint Louis statue, Black Lives Matter protesters harassed, berated, and assaulted praying Catholics. He alleges protesters demanded they leave while they peacefully prayed. Martin adds that protesters violently attacked him for intervening after they targeted an older man with a walking stick.
As of this writing (Monday, June 29), the video generated almost 100,000 views, more than 3,000 shares, over 1,000 reactions, and about 1,600 comments. Here's the video of the attack on Facebook. Here's the original article with photographs. Here's the account on Twitter.
Here's the full text of Martin's Twitter post:
Yesterday, while praying for peace and unity in our city and the protection of the Saint Louis statue, Black Lives Matter protesters started to harass, berate, and assault the Catholics that were peacefully praying. We did nothing in retaliation. We allowed them to spit on us, call us names, put their fingers in our faces, push us, and antagonize, but we did not retaliate. We continued to peacefully pray.
One male then came over and said he would attack me, one other Catholic man, and a Catholic woman that was there if we did not leave. We continued to pray. At that moment, someone in the crowd poured an unidentified liquid on the older man, and he was then attacked by a violent individual.
We got the elderly man out of there safely, and I was about to leave to retrieve my lunch as a friend of mine had just come over to tell me my food had arrived, when the mob approached him. They asked if he was with me, and when he said yes, they began to berate him.
They took his walking stick from him and when he didn't react, they knocked his hat off of his head, called him a skinhead, and attacked him. At this point, I intervened to pull the attacker off of my friend, and I was attacked by the mob and the attacker.
I have a video of the assault. I will be pressing charges against the attackers. If you can identify anyone involved, please let me know. This can not stand. The police were called six (6) times by others on the sidelines and never showed up.
The righteous must defend themselves, as it appears the government no longer is. I hope Donald J. Trump, Mike Parson, Senator Josh Hawley, Senator Roy Blunt, Sam Page, Mayor Lyda Krewson, and other public officials address this, [and] if not corrected, things will only get worse. Please continue to pray for peace as we go through this frightening time in our nation's history.
Archbishop Robert Carlson
Saint Louis Archbishop Robert Carlson said in a recent statement on racism and peace that:
"… Scripture tells us to turn our swords into plow shares. Let us turn our guns into metal. May that metal someday be the statue in our community that stands as a reminder that here, in the Greater Saint Louis Region, we chose justice so that there would be peace…"
Pray the rosary for peace in our country! Our Lady, Queen of Peace, please pray for us!
+JMJ+
Article Copyright © ChurchPOP. All Rights Reserved. Original article here.
Author Copyright © ChurchPOP Editor. All Rights Reserved.
Image: © Conor Martin, Facebook. All Rights Reserved.
Mass Cards: Request Perpetual Mass Enrollments or Mass Intentions or Gregorian Masses for Loved Ones.
Our Catholic Faith: Catechism of the Catholic Church (Vatican Website)
Watch all of our 2-minute, family life videos on the Eternal Word Television Network (EWTN).