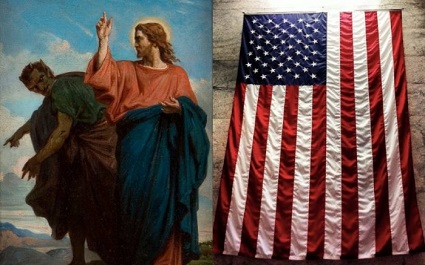 Three Priests Call for 40 Days of Prayer & Fasting to Drive Demonic Forces Out of America: This will be so powerful! On Independence Day, July 4, 2020, Father Bill Peckman, Father James Altman, and Father Richard Heilman announced their call for 40 days of prayer and fasting to cast the demonic influence from our nation. Doug Barry's United States Grace Force: God Strong initiative sponsors the effort.
What to Do
"Through acts of reparation, fasting, penance, charity, and prayer (both personal and sacramental), we call upon the power of God to release ourselves, our families, our parishes, our dioceses, and our nation from all demonic influence and oppression," the release says.
The group calls the effort "Let Freedom Ring: 40 Days to Freedom from the Devil," beginning July 7 (It's not too late to begin now!) and ending August 15, the Solemnity of the Assumption of the Blessed Virgin Mary.
The three priests will provide a reflection each of the 40 days, as well as a specific litany and prayer of exorcism. They also suggest acts of reparation, while considering the person's state in life. Acts of reparation include the daily Rosary, regular exercise, fasting from sweets, etc. Click here for a full description.
It Is Not too Late to Begin!
Father Peckman also invited his parishioners to participate:
"Just think what our parishioners could be and become if we marshaled our forces and took the 40 days between July 7 and August 15 to pray for deliverance and a fullness of God's blessings," he said. "This is a national movement of which I am a part of in order to more than complain about the state we find ourselves in, but to use the grace of God to make a real and lasting change."
What do you think? Do you plan to participate? Even though it is past July 7, do not be discouraged! Begin today. Saint Michael the Archangel, please defend us in battle!
+JMJ+
Article Copyright © ChurchPOP. All Rights Reserved. Original article here.
Author Copyright © ChurchPOP Editor. All Rights Reserved.
Image: Public Domain / Wallpaper Flare
Mass Cards: Request Perpetual Mass Enrollments or Mass Intentions or Gregorian Masses for Loved Ones.
Our Catholic Faith: Catechism of the Catholic Church (Vatican Website)
Watch all of our 2-minute, family life videos on the Eternal Word Television Network (EWTN).