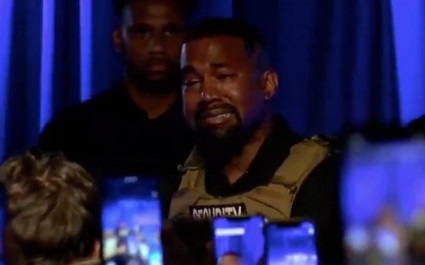 Kanye West Sobs, Regrets Wanting Daughter Aborted: "Kim Kardashian protected that child." This is a powerful pro-life testimony! Kanye West held his first presidential campaign rally on Sunday, July 19, in South Carolina. During his speech, he addressed abortion, revealing that he encouraged Kim Kardashian West to abort their daughter, North. However, West expressed his deep regrets, saying God told him to have the child.
Wife Protects Child 
"She brought North into the world, even when I didn't want to," he said. "She stood up and protected that child!" Here is the video. Warning: contains explicit language.
"She said she was pregnant, and for one month, and two months, and three months, we talked about her not having this child," West said in an emotional pro-life speech. "She had the pills in her hand. You know, the pills you take and the baby is gone? I was sitting up there in Paris, and I had my leather pants on.
"I'm in the apartment where my wife was actually robbed. I had my laptop up where I have all my creative ideas… and the screen went black and white. And God said, 'If you [profanity] with my vision, I'll [profanity] with yours.' And I called my wife, and she said, 'We're going to have this baby.' And I said, 'We're going to have this child.'
"I know people who are 50 years old, who didn't have their children, who have never experienced the level of joy that I've experienced from having a child. So even if my wife were to divorce me after this speech, she brought North into the world, even when I didn't want to. She stood up and protected that child."
Mother Protects Child 
West wept after revealing this story. "My mom saved my life," he adds. "My dad wanted to abort me. There would have been no Kanye West because my dad was 'too busy.'" Here's the video of his story.
What do you think of his pro-life testimony? Pray for Kanye & Kim Kardashian West!
+JMJ+
Article Copyright © ChurchPOP. All Rights Reserved. Original article here.
Author Copyright © ChurchPOP Editor. All Rights Reserved.
Image: ©  @Live Action / Twitter
Mass Cards: Request Perpetual Mass Enrollments or Mass Intentions or Gregorian Masses for Loved Ones.
Our Catholic Faith: Catechism of the Catholic Church (Vatican Website)
Watch all of our 2-minute, family life videos on the Eternal Word Television Network (EWTN).