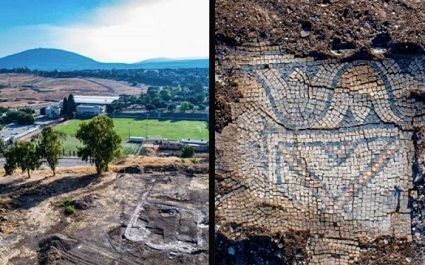 1,300-Year-Old Byzantine Church Discovered: Near Mount Tabor, site of Jesus' Transfiguration. Archaeologists in the Holy Land discovered the foundations of an approximately 1,300-year-old Byzantine-era church near Mount Tabor, the site where many Christians believe Jesus transfigured before the disciples. The Israel Antiquities Authority (IAA) announced the discovery in late July.
Building a Playground
While excavating an area to build a playground in the Lower Galilee village of Kfar Kama near Mount Tabor, the IIA and Kinneret Academic College found the walls of the old mosaic Byzantine church. Archaeologist Nurit Feig said the church's aisles are partially preserved as mosaics:
"The church, measuring 12 x 36 [meters], includes a large courtyard, a narthex foyer, and a central hall. Particular to this church is the existence of three apses (prayer niches), while most churches were characterized by a single apse," Feig said. "Their colorful decoration stands out, incorporating geometric patterns, and blue, black, and red floral patterns," she added.
Sacred Relics 
Feig said that they also discovered a small reliquary, or a stone box used to preserve sacred relics. Archaeologists also found separate rooms adjacent to the church, indicating the possibility of a sixth-century monastery. The IAA will continue working in the area for additional discoveries.
Israel Archbishop Youssef Abedallah Matta was also present at the site to visit the excavations. Holy Land priest Father Francesco Voltaggio posted the church's photographs on his Twitter account, along with this message:
"Under the Holy Land, how many treasures to discover! A 1,300-year-old Byzantine church [with beautiful mosaics] was discovered in Kfar Kama, near Mount Tabor, Israel."
What do you think of this discovery?
+JMJ+
Article Copyright © ChurchPOP. All Rights Reserved. Original article here.
Author Copyright © ChurchPOP Editor. All Rights Reserved.
Image: © @francescogiosue, Twitter / ChurchPOP
Mass Cards: Request Perpetual Mass Enrollments or Mass Intentions or Gregorian Masses for Loved Ones.
Our Catholic Faith: Catechism of the Catholic Church (Vatican Website)
Watch all of our 2-minute, family life videos on the Eternal Word Television Network (EWTN).