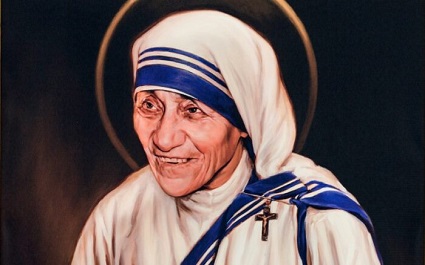 Saint Mother Teresa's Humility List: 15 Amazing Tips for Everyday Holiness. Saint Teresa of Calcutta had so much wisdom! Growing in humility is one of the best ways to practice holiness. We know this from Sacred Scripture:
Humble Yourselves 
1 Peter 5:5-6: "All of you, clothe yourselves with humility in your dealings with one another. God opposes the proud but bestows favor on the humble. So humble yourselves under the mighty hand of God, that He may exalt you in due time."
Saint Teresa also stressed humility. The Church celebrates her feast day on September 5.
Saint Mother Teresa's Humility List
1. Speak as little as possible about yourself.
2. Keep busy with your own affairs and not those of others.
3. Avoid curiosity.
4. Do not interfere with the affairs of others.
5. Accept small irritations with good humor.
6. Do not dwell on the faults of others.
7. Accept censures even if unmerited.
8. Give into the will of others.
9. Accept insults and injuries.
10. Accept contempt, being forgotten and disregarded.
11. Be courteous and delicate even when provoked by someone.
12. Do not seek to be admired and loved.
13. Do not protect yourself beyond your own dignity.
14. Give in, in discussions, even when you are right.
15. Choose always the most difficult task.
Saint Teresa of Calcutta, pray for us!
+JMJ+
Article Copyright © ChurchPOP. All Rights Reserved. Original article here.
Author Copyright © ChurchPOP Editor. All Rights Reserved.
Image: © Father Lawrence Lew, O.P. / Flickr
Mass Cards: Request Perpetual Mass Enrollments or Mass Intentions or Gregorian Masses for Loved Ones.
Our Catholic Faith: Catechism of the Catholic Church (Vatican Website)
Watch all of our 2-minute, family life videos on the Eternal Word Television Network (EWTN).