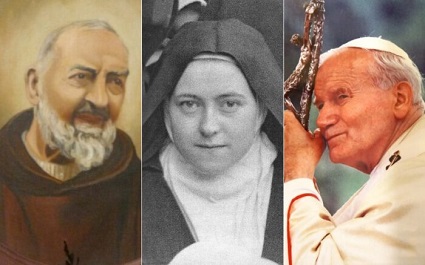 5 Saint Quotes that Bolster Me in Hope. The message of Jeremiah 29:11 keeps me focused on God and His good (and hopeful!) plans. God promises us a future with hope: "For surely I know the plans I have for you, says the Lord, plans for your welfare and not for harm, to give you a future with hope" (Jeremiah 29:11).
Hopeful Hearts 
Since I have a hopeful heart, I am drawn to hopeful quotes from our friends, the saints. The saints knew how to dwell in hope (Acts 2:26). They remind us to do likewise. Here are a few of my favorites:
"Pray, hope, and don't worry" – Saint Pio (Padre Pio). Because God is in control, we can trust His plans. Trust aids us in overcoming worry and placing our hope in God. As the quote continues, "Worry is useless. Our Merciful Lord will listen to your prayer." Thank you, Jesus!
"It is He, Jesus Christ, the true Life, who gives hope and purpose to our earthly existence" – Saint John Paul II. Dear JPII loved to encourage his flock, especially young people, to trust in Christ, Our Hope. Hope was a theme of many of his homilies and addresses, including at World Youth Day 1993. May we share hope with others, as well!
Female Saints 
"Live and hope in the Lord" – Saint Clare of Assisi. Saint Clare left the world to follow God in a life dedicated to prayer. Devoted to the Blessed Sacrament, she prayed and hoped in Christ. She reminds us to do so, too.
"My hope was never mistaken" – Saint Therese. The Little Flower trusted God as she lived her Little Way, which is a beautiful path to emulate. She discussed her faith journey in her autobiography, which is a lovely read.
"Jesus is our hope" – Saint Faustina. In her dairy, Saint Faustina reflects on many aspects of trust in God and His great mercy. That is, indeed, where true hope lies. "We expect to obtain everything promised us by Jesus in spite of all our wretchedness. For Jesus is our hope: Through His Merciful Heart, as through an open gate, we pass through to Heaven" (Diary of Saint Faustina, 1570).
+JMJ+
Article Copyright © ChurchPOP. All Rights Reserved. Original article here.
Author Copyright © Amy Smith. All Rights Reserved.
Image: Public Domain. Padre Pio / Therese the Little Flower / John Paul II
Mass Cards: Request Perpetual Mass Enrollments or Mass Intentions or Gregorian Masses for Loved Ones.
Our Catholic Faith: Catechism of the Catholic Church (Vatican Website)
Watch all of our 2-minute, family life videos on the Eternal Word Television Network (EWTN).