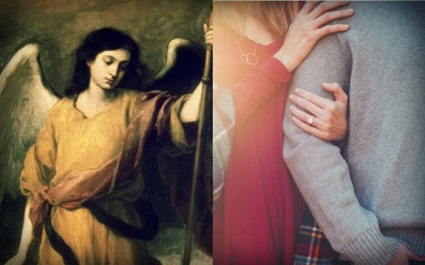 Looking for a Holy Spouse? There is a beautiful prayer for anyone searching for a holy spouse. If you believe that you're called to marriage, finding a good, holy spouse can be difficult. It's actually counter-cultural to even think this way! Saint Raphael the Archangel is considered a patron of finding a holy spouse. Here's why:
A Demon in the Bedroom 
In the Book of Tobit, after a demon killed each of Sarah's seven previous spouses, Saint Raphael defeated the demon. He led Tobiah to Sarah, allowing them to successfully marry. So it is possible to find a holy spouse. Just pray, and if it is God's will, He will lead you to the right person.
Saint Raphael the Archangel can comfort you when it seems as if finding a holy spouse is impossible, and give you hope in knowing that it is. Following is the prayer seeking his intercession, and it is also on video.
Prayer for a Holy Spouse
Saint Raphael, loving patron of those seeking a marriage partner, help me in this supreme decision of my life. Find for me as a helpmate in life the person whose character may reflect some of the traits of Jesus and Mary.
May he (she) be upright, loyal, pure, sincere, and noble, so that with united efforts and with chaste and unselfish love, we both may strive to perfect ourselves in soul and body, as well as the children it may please God to entrust to our care.
Saint Raphael, angel of chaste courtship, bless our friendship and our love, that sin may have no part in it. May our mutual love bind us so closely that our future home may ever be most like the home of the Holy Family of Nazareth.
Offer your prayers to God for the both of us, and obtain the blessing of God upon our marriage, as you were the herald of blessing for the marriage of Tobiah and Sarah.
Saint Raphael, friend of the young, be my friend, for I shall always be yours. I desire ever to invoke you in my needs. To your special care, I entrust the decision I am to make as to my future husband (wife). Direct me to the person with whom I can best cooperate in doing God's Holy Will, with whom I can live in peace, love, and harmony in this life, and attain to eternal joy in the next. Amen.
(End with an Our Father, Hail Mary, and Glory Be in honor of Saint Raphael the Archangel.)
Saint Raphael, pray for us!
+JMJ+
Article Copyright © ChurchPOP. All Rights Reserved. Original article here.
Author Copyright © ChurchPOP Editor. All Rights Reserved.
Image: Public Domain / ChurchPOP
Mass Cards: Request Perpetual Mass Enrollments or Mass Intentions or Gregorian Masses for Loved Ones.
Our Catholic Faith: Catechism of the Catholic Church (Vatican Website)
Watch all of our 2-minute, family life videos on the Eternal Word Television Network (EWTN).