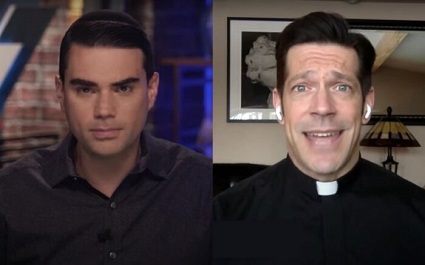 Ben Shapiro Interviews Father Mike Schmitz About His #1 Podcast, Bible in a Year. What a great interview! Jewish commentator Ben Shapiro recently interviewed Father Mike Schmitz about his #1 podcast, Bible in a Year.
 Wildly Successful
The episode discusses his wildly successful Bible podcast, The Bible in a Year, and the role that free will plays in faith, and if religion is making a comeback in America. Shapiro mentions that Father Mike's podcast sat for 17 consecutive weeks at #1 on Apple Podcasts. He added that this is the first Bible-related show he's ever seen at the top of the charts.
"It really reveals, I think, in so many ways, that I wasn't alone in that sense of being really just constantly distracted and often distressed by what's out there," Father Mike told Shapiro. "I think it just really touched a nerve in a lot of people."
Listen to the interview here.
What do you think of the interview? Have you listened to Father Mike's new podcast?
+JMJ+
Article Copyright © ChurchPOP. All Rights Reserved. Original article here.
Author Copyright © ChurchPOP Editor. All Rights Reserved.
Image Copyright: © Ben Shapiro, YouTube / ChurchPOP
Mass Cards: Request Perpetual Mass Enrollments or Mass Intentions or Gregorian Masses for Loved Ones.
Our Catholic Faith: Catechism of the Catholic Church (Vatican Website)
Watch all of our 2-minute, family life videos on the Eternal Word Television Network (EWTN).