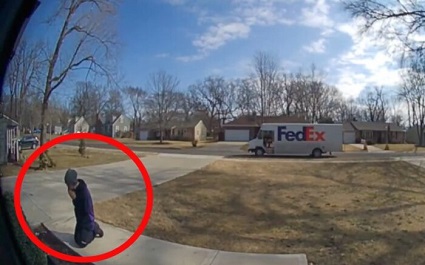 FedEx Delivery Driver Stops to Pray before Statue of Our Lady in Viral Video: This is so beautiful! Footage from a personal home security camera captured a FedEx delivery man stopping to pray before a statue of Our Lady on his way back to the delivery truck.
Pray without Ceasing 
The driver drops a package off on the front porch, then notices the statue. He kneels, makes the Sign of the Cross, and prays for a moment. He concludes with the Sign of the Cross, and runs back to the FedEx truck.
The YouTube video received more than 30,000 views in less than a week. Here is the video.
The delivery driver's prayer was short and simple, but it certainly pleases Our Lady and Our Lord!
"We must meditate before, during, and after everything we do. The prophet says: 'I will pray, and then I will understand.'  This is the way we can easily overcome the countless difficulties we have to face day after day, which, after all, are part of our work. In meditation, we find the strength to bring Christ to birth in ourselves and in others."
– Saint Charles Borromeo
Hail Mary, full of grace!
+JMJ+
Article Copyright © ChurchPOP. All Rights Reserved. Original article here.
Author Copyright © ChurchPOP Editor. All Rights Reserved.
Image Copyright: © Rachel Gelhaus, YouTube. All Rights Reserved.
Mass Cards: Request Perpetual Mass Enrollments or Mass Intentions or Gregorian Masses for Loved Ones.
Our Catholic Faith: Catechism of the Catholic Church (Vatican Website)
Watch all of our 2-minute, family life videos on the Eternal Word Television Network (EWTN).