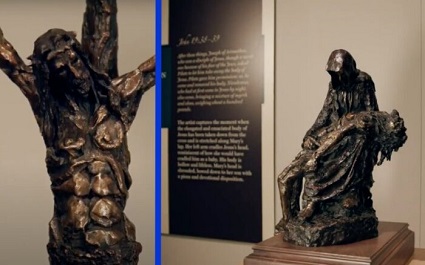 Virtual Stations of the Cross: Walk through the Passion of Jesus Christ with this Lenten Meditation. This is so powerful! The Museum of the Bible in Washington, D.C. compiled a beautiful and original version of the Stations of the Cross. The current online Stations of the Cross exhibit models Catholic meditations, led by Catholic priest and exorcist Monsignor Stephen Rossetti.
Final Hours of the Life of Jesus 
While the museum itself is not Catholic, Catholicism is positively portrayed. The website states:
Because of COVID, many of us cannot get out to observe the Stations of the Cross as we normally would. So we're inviting you to walk through the final hours of Jesus Christ's life online. Featuring sculptures by famous artist Gib Singleton; readings and prayers by Washington Nationals Chaplain, Monsignor Stephen Rossetti; and singing by local D.C. opera singer Crossley Hawn -- this moving presentation can be enjoyed in the comfort of your own home.
Here is the 30-minute, virtual, Stations of the Cross video.
What do you think of the virtual Stations of the Cross?
+JMJ+
Article Copyright © ChurchPOP. All Rights Reserved. Original article here.
Author Copyright © ChurchPOP Editor. All Rights Reserved.
Image Copyright: © Museum of the Bible, YouTube / ChurchPOP. All Rights Reserved.
Mass Cards: Request Perpetual Mass Enrollments or Mass Intentions or Gregorian Masses for Loved Ones.
Our Catholic Faith: Catechism of the Catholic Church (Vatican Website)
Watch all of our 2-minute, family life videos on the Eternal Word Television Network (EWTN).