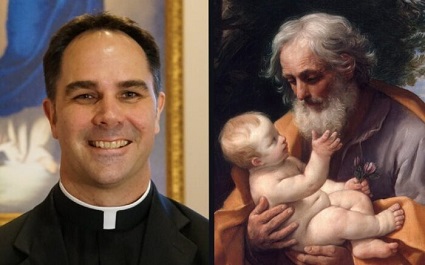 "I Messed Up My Manhood:" How Devotion to Saint Joseph Saved Father Donald Calloway's Life. Do you have a relationship with Saint Joseph? On The Catholic Talk Show,  Ryan Scheel, Father Rich Pagano, and Ryan Della Crosse discuss all things Saint Joseph with Father Donald Calloway, MIC (Marians of the Immaculate Conception).
Help and Healing 
The author of Consecration to Saint Joseph: The Wonders of Our Spiritual Father explains how Saint Joseph contributed to his conversion and why our world needs this saint today. "I needed a lot of help and healing because I messed up my life. And I'm a guy, so I messed up my manhood. I really jacked it up with a lot of immoral living and bad things," he said.
"I needed a model. I needed somebody I could look to, a champion of manhood for me – what it really means to be a man. So these little Filipino women who helped me convert, they showed me Saint Joseph. They got me praying novenas to him and everything. That helped me tremendously."
Other topics discussed in this video:
(1) Why is Saint Joseph the Terror Demons?
(2) Why is Saint Joseph the model for all men today?
(3) What is the Year of Saint Joseph?
(4) What is the 33 day consecration to Saint Joseph?
Never-Failing Protection Prayer to Saint Joseph
O Saint Joseph, whose protection is so great, so strong, so prompt before the throne of God, I place in you all my interests and desires. Saint Joseph, do assist me by your powerful intercession and obtain for me from your Divine Son all spiritual blessings through Jesus Christ, Our Lord; so that, having engaged here below your heavenly power, I may offer my thanksgiving and homage to the most loving of Fathers.
O Saint Joseph, I never weary contemplating you and Jesus asleep in your arms. I dare not approach while He reposes near your heart. Press Him in my name and kiss His fine head for me, and ask Him to return the kiss when I draw my dying breath. Saint Joseph, patron of departing souls, pray for us. Amen.
Saint Joseph, please pray for us!
+JMJ+
Article Copyright © ChurchPOP. All Rights Reserved. Original article here.
Author Copyright © ChurchPOP Editor. All Rights Reserved.
Image: Father Donald Calloway, Facebook / Public Domain / ChurchPOP
Mass Cards: Request Perpetual Mass Enrollments or Mass Intentions or Gregorian Masses for Loved Ones.
Our Catholic Faith: Catechism of the Catholic Church (Vatican Website)
Watch all of our 2-minute, family life videos on the Eternal Word Television Network (EWTN).