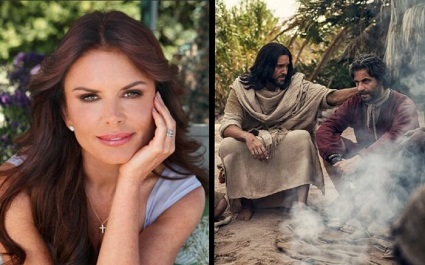 New Easter Film, Resurrection: Actress Roma Downey reveals how her Catholic Faith inspired the movie. This is amazing! ChurchPOP editor Jacqueline Burkepile recently spoke with actress and producer Roma Downey about the upcoming Lightworkers film on Discovery Plus, Resurrection.
The Crucifixion is Only the Beginning 
The movie follows the immediate aftermath of Jesus' crucifixion. It depicts the apostles as they await Christ's resurrection and fear being hunted and killed by the Romans. The movie concludes with Jesus' ascension and the coming of the Holy Spirit at Pentecost.
Downey is best known for her TV role as Monica in Touched by an Angel. She and her husband, Mark Burnett, work together as producers for their media company, Lightworkers. The Catholic actress and producer explains how her faith influences her life, also revealing that her brother is a Catholic priest in Ireland:
"My faith has influenced everything I've done, from my days on Touched by an Angel when I had the privilege of playing a messenger. The message was simple: there is a God, He loves you, and He wants to be part of your life," Downey explains.
"If you go back and ask the nuns who taught me in school which girl in the class you think will produce biblical epic films in her career, I doubt that the sisters would have picked me!" Here's the full interview.
Resurrection premiered on Discovery Plus on March 27, 2021. Click here to watch the trailer.
+JMJ+
Article Copyright © ChurchPOP. All Rights Reserved. Original article here.
Author Copyright © ChurchPOP Editor. All Rights Reserved.
Image: © Roma Downey, Facebook / Resurrection, Lightworkers / ChurchPOP
Mass Cards: Request Perpetual Mass Enrollments or Mass Intentions or Gregorian Masses for Loved Ones.
Our Catholic Faith: Catechism of the Catholic Church (Vatican Website)
Watch all of our 2-minute, family life videos on the Eternal Word Television Network (EWTN).