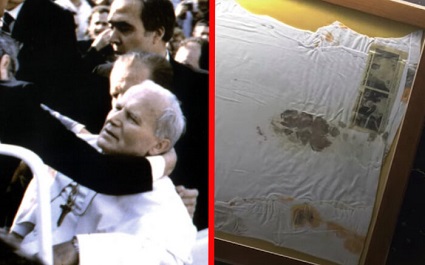 Are you aware of Pope Saint John Paul II's shirt relic? A nurse saved his bloodstained shirt after he was shot, and it is now a relic. The Daughters of Charity of Saint Vincent de Paul keep this relic in Rome. The shirt contains blood stains from his assassination attempt on May 13, 1981.
Bullet Holes 
People without resources, single mothers, and immigrants come to the Daughters of Charity in Rome for help. However, the house became a pilgrimage center since preserving Saint John Paul II's garment there. In the image above, you can see the blood stains.
Here's the story from Rome Reports:
"You can still see the pope's blood stains on the relic, and you can make out three distinct holes," Sister Maria Rosario of the Daughters of Charity told Rome Reports. "They are holes caused by bullets. Not because there were three bullets, but since the shirt was folded over itself, because of how he was standing."
Sister Maria also explained how the relic came to them – through nurse Anna Stanghellini, who preserved the t-shirt in her closet for many years.
"In the operating room, they cut his shirt into two pieces and threw it on the floor because they had to operate on the Pope," Sister Maria explained. "When they finished, she realized that the shirt was still there and would probably end up in the garbage. So Anna decided to pick it up."
Anna Stanghellini felt close to the Daughters of Charity, so she chose to donate the shirt to their community. The relic's display attracts many visitors for veneration. The sisters say many share stories of Saint John Paul II's miraculous intercession.
Miracle through the Relic 
"A woman told me that she wanted to have a child, but she couldn't have one. And she came here to pray almost every day. Finally, she became pregnant, but the doctors told her that she and her child were in great danger. She and her husband asked Pope Saint John Paul II for a miracle. In the end, the child was born and is in good health. So is the mother. They named their son John Paul."
Pope Saint John Paul II, pray for us!
Article source: Rome Reports.
+JMJ+
Article Copyright © ChurchPOP. All Rights Reserved. Original article here.
Author Copyright © ChurchPOP Editor. All Rights Reserved.
Image Copyright © Rome Reports (YouTube). All Rights Reserved.
Mass Cards: Request Perpetual Mass Enrollments or Mass Intentions or Gregorian Masses for Loved Ones.
Our Catholic Faith: Catechism of the Catholic Church (Vatican Website)
Watch all of our 2-minute, family life videos on the Eternal Word Television Network (EWTN).