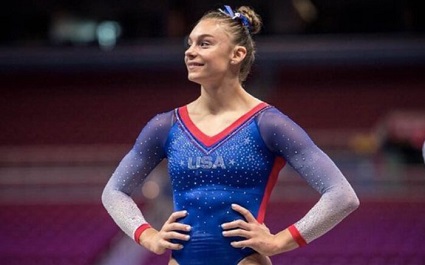 "I Feel So Blessed!" Meet the young Catholic gymnast taking her faith to the Tokyo Olympics. What a beautiful witness. Olympic gymnast and 18-year-old Grace McCallum carries a big responsibility on her shoulders: representing the United States in the Olympics. The young gymnast, however, copes well under pressure, as she knows very well to whom she places her trust.
Tokyo Olympics
Grace is one of six women joining the U.S. gymnastics team for the Tokyo Olympics from July 23 - August 8, 2021. The event was scheduled last year, but postponed due to the COVID-19 pandemic. Born in Isanti, Minnesota, to parents Sandy and Ed, Grace was raised along with her five siblings: Rachael, Madelyn, Joseph, John, and Xavier. The family is Catholic and active in their Minnesota parish.
Grace explained to CBS Minnesota in a July 5 interview how much her faith grounds her, especially as she travels to Japan for the Olympics without her family: "It's been an honor. I feel so blessed that I have this opportunity," Grace said. "[My faith grounds me] a lot since I am by myself and my family is not there. Normally I will go to church sometime before the meet, and since I won't have that, I'll really be leaning on my faith. My Dad is sending me with a couple of prayers to say before each practice in the morning. I think that will be really helpful to kind of keep me at peace and calm."
Grace's mother Sandy told the Central Minnesota Catholic in a 2019 interview that her daughter always travels with her Rosary and a special Cross that belonged to her grandmother: "She travels with those things to kind of bring her peace and calm. Grace won't travel anywhere without them."
Sandy said that prayer is fundamental and very important to Grace and her family: "That's one of those areas that we say, 'Keep her in focus, keep praying.' Because it really does make a difference." Grace is also grateful for everyone who approaches and says they pray for her.
Saint Philomena
Sandy added that during a 2019 U.S competition, her family prayed for the intercession of Saint Philomena, Grace's confirmation saint. Grace's sister, Rachael, even prayed a Novena to Jesus through the young saint. And and on Saint Philomena's feast day, August 11, Grace won the bronze medal.
Grace's Mom explained: "We said, 'use her as your intercessor and pray with her.' It was kind of cool that it just happened to land on that day." Sandy often travels with Grace and searches for nearby churches to pray and attend Mass, because: "the only thing that keeps me sane is Church – that's my mainstay... it helps me center myself so I can be there for Grace."
Despite her young age, Grace knows her talents are a gift from God: "Whenever I have a rough day, in the gym or competition, I just know God gave me this talent. I need to use it and not waste it."
Say a prayer for Grace!
+JMJ+
Article Copyright © ChurchPOP. All Rights Reserved. Original article here.
Author Copyright © ChurchPOP Editor. All Rights Reserved.
Image Copyright © grace.mccullum Instagram. All Rights Reserved.
Mass Cards: Request Perpetual Mass Enrollments or Mass Intentions or Gregorian Masses for Loved Ones.
Our Catholic Faith: Catechism of the Catholic Church (Vatican Website)
Watch all of our 2-minute, family life videos on the Eternal Word Television Network (EWTN).