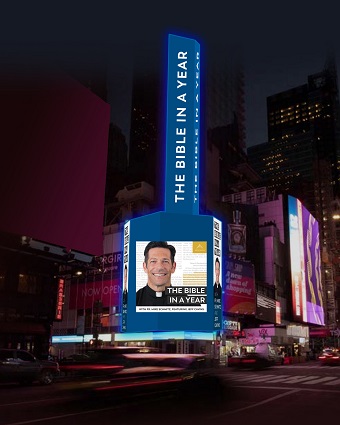 Father Mike Schmitz on Times Square billboard in New York City. This is so cool! Ascension Press revealed on Wednesday, 3 November 2021, that Father Mike Schmitz will appear on a Times Square billboard throughout this Christmas Season. The billboard will advertise his #1 podcast, Bible in a Year, from 19 December 2021 to 9 January 2022, on 7th Avenue & 48th Street in New York City.
We're Number One! 
During the daily, 20-minute, 365-episode podcast, Father Mike reads The Great Adventure Catholic Bible. He also provides a commentary, prayer, and reflection, along with guest host and biblical scholar Jeff Cavins.
The podcast sat at the #1 spot on the iTunes charts during its first two weeks after airing in January 2020. It currently sits at the #1 spot in the Religion & Spirituality category. It also averages more than 450,000 downloads per day!
"We're so excited that millions of people going to New York City over the Christmas Season will see this invitation," Lauren Joyce, Ascension's Public Relations & External Communications Specialist, said after the announcement. "Who knows how the Lord is working?"
Graces from the Podcast
Father Mike explained in an Ascension press release how the podcast helps thousands rediscover the historical biblical worldview. He said listeners say they are overcoming addictions, returning to the Sacraments, or converting to Catholicism, and renewing marriages and relationships."
"Through distraction and distress, our culture has lost a hopeful, historical, biblical worldview – but, by the grace of God, this podcast has helped thousands rediscover it," Father Mike said.
How amazing! What do you think of the billboard?
+JMJ+
Article Copyright © ChurchPOP. All Rights Reserved. Original article here.
Author Copyright © ChurchPOP Editor. All Rights Reserved.
Image: © Ascension Press.
Mass Cards: Request Perpetual Mass Enrollments or Mass Intentions or Gregorian Masses for Loved Ones.
Our Catholic Faith: Catechism of the Catholic Church (Vatican Website)
Watch all of our 2-minute, family life videos on the Eternal Word Television Network (EWTN).