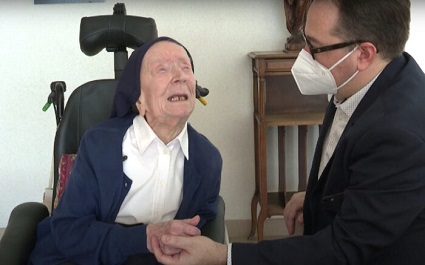 Sister André Randon: world's oldest nun celebrated her 118th birthday. The Daughter of Charity, world's oldest nun, the oldest European, and the second-oldest person in the world, turned 118 on Friday, February 11, 2022, the feast day of Our Lady of Lourdes. She celebrated with a glass of wine and some chocolate!
Surviving Covid-19
Sister André, who is blind and in a wheelchair, also survived Covid-19 last year. What a warrior! After contracting Covid-19, Sister André told BFM Television that she wasn't scared because she wasn't scared to die: "I'm happy to be with you, but I would wish to be somewhere else – join my big brother and my grandfather and my grandmother."
Born Lucile Randon on February 11, 1904, Sister André converted to Catholicism at age 19. At age 25, she began caring for elderly and orphans at a French hospital. She later entered the Daughters of Charity at age 40. She has been a sister for 78 years!
Sister André moved in 2009 to Sainte-Catherine Labouré retirement home in Toulon, France, where she spent her birthday. Here's a video from a French news outlet.
Translation of the Interview
Sister André: "I am thinking of withdrawing from this matter, but they don't want [me] to. You have a lifetime contract, my sister!"
France 24 TV: "She is one of the oldest women in the world. The dean of the French but also the vice-dean of humanity has no health problems. Apart from muscle and joint stiffness, she has very few daily treatments. She was 14 years old when the Spanish Flu was raging in 1918. More than a century later, she survived Covid-19, which just made her a little tired. Although she is resistant, Sister André wishes to die quickly."
Sister Andre: "I had the freedom, but it's terrible not to be able to make a gesture alone."
David Tavella: "We caregivers, who are in contact with these people, we conclude that finally longevity is perhaps not a desirable thing. Obviously when you love your loved ones, you want to be with them as long as possible, but how will you be at that time? We must listen to the elderly."
France 24 TV: "Sister André, born Lucile Randon, is one of approximately 30,000 centenarians recorded in France. In the world, there were half a million centenarians in 2015, and there could be 25 million in 2100. Science has still not managed to unravel the secret of this longevity."
But as Sister André says, the most important thing in life is...
Sister André: "To share a great love and not to compromise on His (Jesus) needs. That's what is the main thing."
Please say a prayer for Sister André!
+JMJ+
Article Copyright © ChurchPOP. All Rights Reserved. Original article here.
Author Copyright © ChurchPOP Editor. All Rights Reserved.
Image: ©  AFP / YouTube. All Rights Reserved.
Mass Cards: Request Perpetual Mass Enrollments or Mass Intentions or Gregorian Masses for Loved Ones.
Our Catholic Faith: Catechism of the Catholic Church (Vatican Website)
Watch all of our 2-minute, family life videos on the Eternal Word Television Network (EWTN).