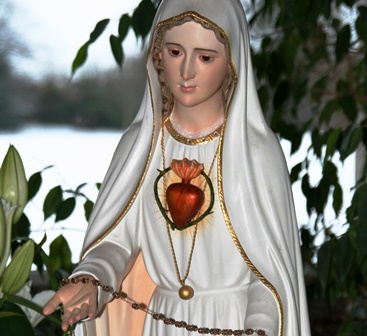 Vatican releases full consecration prayer of Russia and Ukraine. The Holy See announced that Pope Francis will consecrate both Russia and Ukraine to the Immaculate Heart of Mary on Friday, March 25, 2022, the Feast of the Annunciation. The consecration comes after Ukrainian Bishops' called for the Pope to consecrate Russia.
Our Lady of Fatima
In her 1917 Marian apparitions, Our Lady of Fatima asked for the "Consecration of Russia to my Immaculate Heart, and the Communion of Reparation on the First Saturdays. If my requests are heeded, Russia will be converted, and there will be peace; if not, she will spread her errors throughout the world, causing wars and persecutions of the Church," Our Lady said.
While the Holy See said Pope Saint John Paul II fulfilled this request in 1984, the Pope will renew this consecration on Friday, March 25, 2022, due to the ongoing war in Ukraine.
Pope Francis invited all bishops throughout the world to join him in the consecration. He also asked the bishops to invite all priests, religious, and the faithful to participate in the consecration that day, in fraternal union. Previously, a novena leading up to the consecration was encouraged.
The Pope will consecrate Russia, Ukraine, and all humanity to the Immaculate Heart of Mary at 6:30 p.m. Rome time on Friday, March 25, 2022. Here's the letter from Pope Francis to all bishops. The Vatican also released the full text of the prayer for the upcoming consecration.
Our Lady of Fatima, Pray for us!
+JMJ+
Article Copyright © ChurchPOP. All Rights Reserved. Original article here.
Author Copyright © ChurchPOP Editor. All Rights Reserved.
Image: Public Domain - Immaculate Heart of Mary 
Mass Cards: Request Perpetual Mass Enrollments or Mass Intentions or Gregorian Masses for Loved Ones.
Our Catholic Faith: Catechism of the Catholic Church (Vatican Website)
Watch all of our 2-minute, family life videos on the Eternal Word Television Network (EWTN).