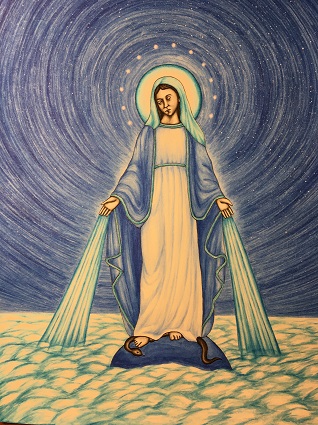 May is such a beautiful month because we honor Mary! Catholic Link and ACI Prensa offer some great tips for honoring Mary this month. However, keep in mind that these are also great tips for any time of the year. Here's eight beautiful ways to honor Mary throughout the month of May:
Tip 1: Put up an image of Mary.
You can decorate your home, office, or workplace with an altar, a statue, a painting, or any image of the Blessed Virgin Mary.
Tip 2: Read Bible passages about the Virgin Mary.
Reading Bible passages, such as as the annunciation, the birth of Jesus, the presentation of Jesus in the temple, and Mary at the foot of the Cross. See the Gospel of Luke, chapter 2 and the Gospel of John, chapter 19.
Tip 3: Pray the Rosary.
Praying the Rosary is one of the main prayers of the Church. The Virgin Mary herself taught Saint Dominic how to pray it. Click here to learn how to pray the Rosary.
Tip 4: Participate in a Marian procession.
Marian processions is a tradition still alive in many countries. It involves walking with an image of Mary and saying Marian prayers and songs.
Tip 5: Receive the Sacraments.
Make sure you receive the Sacraments, especially Confession and the Holy Eucharist, where Jesus eagerly waits for us with open arms.
Tip 6: Perform Works of Mercy.
For example, you can help a pregnant mother in need or visit a nursing home where you may find older women who feel lonely or abandoned. Here is a list of the seven corporal Works of Mercy.
Tip 7: Evangelize.
It is important to remind others how much the Virgin Mary loves them, and to teach them to pray to Jesus Christ through the Mother of God. This is the perfect way to Jesus, which honors the way He came to us. Let us honor Mary with all of our hearts!
Tip 8: Give someone a Marian gift.
It is recommended to give someone a Marian medal, or the Scapular of Our Lady of Mount Carmel, blessed by a priest. Note: A priest must enroll a person into the Brown Scapular Confraternity in order for the Scapular wearer to receive the Scapular's blessings. Once enrolled, the Scapular-wearer already receives the blessings attached to the Scapular.
Final Note: Remember – to share is to evangelize! Let us honor Our Mother Mary with our whole hearts. Hail Mary, full of grace, we love you.
+JMJ+
Article Copyright © ChurchPOP. All Rights Reserved. Original article here.
Author Copyright © ChurchPOP Editor. All Rights Reserved.
Image: © Jason Koltuniak / What Color is Heaven?
Mass Cards: Request Perpetual Mass Enrollments or Mass Intentions or Gregorian Masses for Loved Ones.
Our Catholic Faith: Catechism of the Catholic Church (Vatican Website)
Watch all of our 2-minute, family life videos on the Eternal Word Television Network (EWTN).