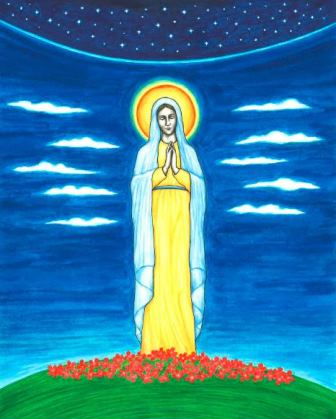 Catholic priest's top 10 reasons for Marian devotion. Are you devoted to Our Lady? Parochial Vicar Father Jason Smith of the Basilica of Saint Patrick's Old Cathedral in New York City shared his top 10 reasons to have a devotion to the Blessed Virgin Mary.
Top 10 
The Instagram post, published on the feast of Our Lady of Fatima (May 13), provides 10 amazing benefits of devoting yourself to Our Lady. He first shared the list during his homily on Mother's Day.
Here is his top 10 countdown:
(10) She is the first Christian.
(9) She shows us the wonderful things God can do with our "yes."
(8) She knows how to listen to angels.
(7) She shows us how to confront trials with faith.
(6) Wherever Mary is, there is a special presence of the Holy Spirit.
(5) She helps those close to her.
(4) The Rosary is a grace-filled prayer.
(3) With Mary, the devil doesn't stand a chance!
(2) You'll find her image in every part of the world.
(1) Mothers are the best!
Would you add anything to Father Jason's list?
Mother of Jesus, pray for us!
+JMJ+
Article Copyright © ChurchPOP. All Rights Reserved. Original article here.
Author Copyright © ChurchPOP Editor. All Rights Reserved.
Image: © Jason Koltuniak / Saved by the Alphabet
Mass Cards: Request Perpetual Mass Enrollments or Mass Intentions or Gregorian Masses for Loved Ones.
Our Catholic Faith: Catechism of the Catholic Church (Vatican Website)
Watch all of our 2-minute, family life videos on the Eternal Word Television Network (EWTN).