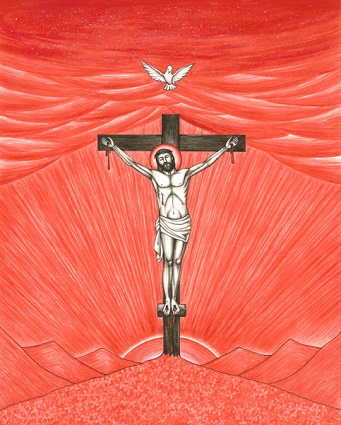 July is the Month of the Precious Blood of Jesus. How much blood did Christ lose during His passion? Did you ever wonder about this? During private revelations, Jesus revealed the exact amount to three saints. 
From Spoken Word to Letter 
Christ revealed astounding details of His passion during private revelations. The spoken words were compiled in a written letter that became known as the True Letter of Our Savior Jesus Christ.
Saint Elizabeth of Hungary, Saint Bridget, and Saint Matilda all wanted to know more about Jesus' passion, so they fervently prayed for a revelation from Christ. Answering their prayers, Jesus revealed countless details regarding His passion, including that He lost 28,430 drops of blood.
Jesus' spoken words were transformed into a letter form. This letter is now preserved in a silver box at the Holy Sepulchre of Our Lord Jesus Christ in Jerusalem. Pope Leo XIII approved this letter and its promises in 1890. There have also been many miracles attributed to the True Letter of Our Savior Jesus Christ.
Five Promises 
Jesus offered five promises to those who honor His drops of blood by praying each of these prayers twice a day: Our Father, Hail Mary, and Glory Be. This must be done every day for three years. If the individual dies before completing the three years' devotion, Jesus will keep these promises as if the individual finished them. However, this is not meant to replace the Sacrament of Confession.
Here are the five promises to those who honor Jesus' drops of precious blood:
(1) A plenary indulgence and remittance of your sins.
(2) You will be free from the pains of Purgatory.
(3) If you should die before completing the three years, it will be the same as if you had completed them.
(4) It will be upon your death the same as if you had shed all your blood for the Holy Faith.
(5) I will descend from Heaven to take your soul and that of your relatives, until the fourth generation.
Thank you Jesus, for your loving sacrifice!
+JMJ+
Article Copyright © ChurchPOP. All Rights Reserved. Original article here.
Author Copyright © ChurchPOP Editor. All Rights Reserved.
Image: © Jason Koltuniak / What Color is Heaven?
Mass Cards: Request Perpetual Mass Enrollments or Mass Intentions or Gregorian Masses for Loved Ones.
Our Catholic Faith: Catechism of the Catholic Church (Vatican Website)
Watch all of our 2-minute, family life videos on the Eternal Word Television Network (EWTN).