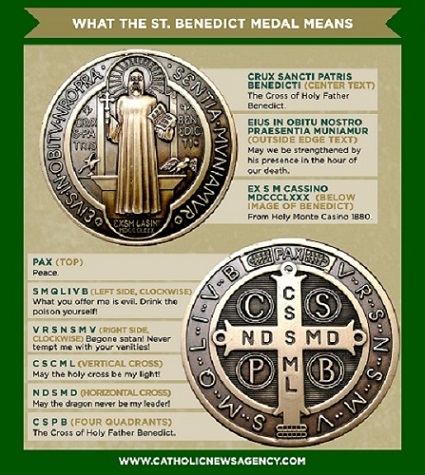 Exorcism Prayers for protection against evil: These Benedictine prayers are so powerful! The Benedictine medal is an amazing sacramental. In the 11th century, Pope Leo IX was the first pope to reportedly have worn the medal after a miraculous cure from a snake bite. Even though the Church is unsure of its exact origins, various forms of the medal have been worn ever since.
Jubilee Medal 
The Jubilee Medal, created in 1880, is the current medal. It was made in honor of the 1,400 anniversary of Saint Benedict's birth, known as the Father of Western Monasticism. On the back of the medal, there are very powerful exorcism prayers. 
The faithful may recite these prayers at anytime to ward off evil. Many people also hang the blessed medals in their homes, bury them in building foundations, and put them on other sacramentals (such as Rosaries). It is also common to wear the Benedictine medal. Latin guidance and exorcism prayers are inscribed on the back of the Benedictine medal.
Guidance & Exorcism Prayers 
Latin Guidance Prayers
C. S. S. M. L. (Crux Sacra Sit Mihi Lux): "The Holy Cross, be my light."
N. D. S. M. D. (Non Draco Sit Mihi Dux): "May the dragon never be my guide!"
Latin Exorcism Prayers
Saint Benedict said the following words after some rebellious monks tried killing him with poison. Once he realized they poisoned his drink, he said this:
V. R. S. (Vade Retro Satan): "Get away, Satan!"
N. S. M. V. (Not Suade Mihi Vana): "Never tempt me with your vanities!"
S. M. Q. L. (Sunt Mala Quae Libas): "What you offer me is evil."
I. V. B. (Ipse Venena Bibas): "Drink the poison yourself!"
Many Catholic bookstores sell Benedictine medals, if you do not own one. Be sure a priest blesses it! Saint Benedict, please pray for us.
+JMJ+
Article Copyright © ChurchPOP. All Rights Reserved. Original article here.
Author Copyright © ChurchPOP Editor. All Rights Reserved.
Image: © Catholic News Agency. All Rights Reserved.
Mass Cards: Request Perpetual Mass Enrollments or Mass Intentions or Gregorian Masses for Loved Ones.
Our Catholic Faith: Catechism of the Catholic Church (Vatican Website)
Watch all of our 2-minute, family life videos as seen on the Eternal Word Television Network (EWTN).