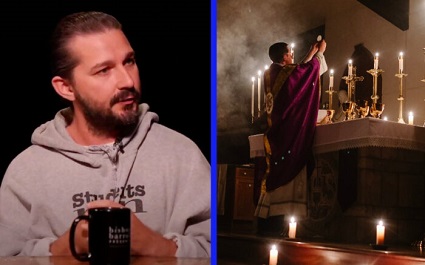 Transformers star Shia LaBeouf says that the Traditional Latin Mass led him to Catholicism. LaBeouf told his conversion story on Bishop Robert Barron's Conversations at the Crossroads series.
Suicidal
LaBeouf converted while preparing for his role as Saint Padre Pio of Pietrelcina in the upcoming fall movie, Padre Pio.
Before signing onto the movie, the actor said he was suicidal amid several public scandals. He said Hollywood blacklisted him, he had no friends, and no family to turn to. "When I walked into this, my life was on fire. I was walking out of hell," he said.
"I didn't want to be an actor anymore. My life was a complete mess. I hurt a lot of people. I felt deep shame, deep guilt. I didn't like to go outside much. I had a yearning to not be here anymore. I was on my way out." He explained that signing onto the movie felt miraculous and that Saint Padre Pio saved his life.
Traditional Latin Mass 
Throughout his conversation with Bishop Barron, LaBeouf said the Traditional Latin Mass (Tridentine Mass) played an important role in his conversion. He said he went to Latin Mass all the time during his preparation.
"Latin Mass affects me deeply," LaBeouf says.
"How come?" Bishop Barron responds.
"Because it feels like they're not selling me a car," he continues. "It feels like it's not being done to sell me on anything. And it feels almost like I'm being let in on something very special. The quiet... it activates something in me where it feels like I've found something. It feels like a special thing that you've found, and you protect it, and hold it, and it's yours." Here is the clip.
Sacred Language
"There's a certain language where I don't need to know the words, which is what I feel when I watch Pio's Mass," LaBeouf continues. "I know what's going on and I feel it deeply. It almost feels more powerful than when I hear every single word. It takes me out of the realm of the intellectual, and it puts me squarely in the realm of the feeling, and into the thing of beauty."
"I was never an atheist. I was always an agnostic," the actor says. "I always had a belief, but I never had a connection. Latin Mass gave me something where I felt connected, which took me out of belief and into connection."
How beautiful! Please say a prayer for Shia LaBeouf!
+JMJ+
Article Copyright © ChurchPOP. All Rights Reserved. Original article here.
Author Copyright © ChurchPOP Editor. All Rights Reserved.
Image: © Bishop Robert Barron, YouTube / Josh Applegate - Unsplash - Public Domain
Mass Cards: Request Perpetual Mass Enrollments or Mass Intentions or Gregorian Masses for Loved Ones.
Our Catholic Faith: Catechism of the Catholic Church (Vatican Website)
Watch all of our 2-minute, family life videos as seen on the Eternal Word Television Network (EWTN).