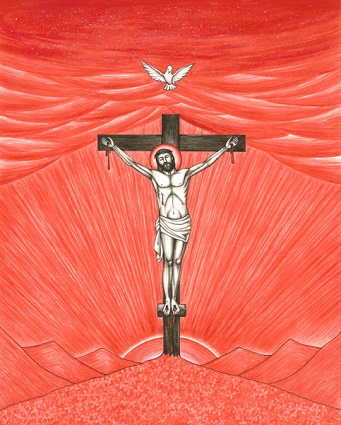 Heroic Act of Charity in Favor of the Souls in Purgatory. What is this heroic act and who can make it? A decree of the Sacred Congregation of Indulgences, dated 18 December 1885 and confirmed by Pope Leo XIII, says:
Offering All Satisfactory Works 
"The Heroic Act of Charity in favor of the souls detained in purgatory consists in this, that a member of the Church Militant (Christifidelis), either using a set formula or simply by an act of his will, offers to God for the Souls in Purgatory all the satisfactory works which he will perform during his lifetime, and also all the suffrages which may accrue to him after his death."
Many Christians devoted to the Blessed Virgin Mary, acting on the advice of the Theatine Regular Cleric Father Gaspar Olider, make it a practice to deposit the said merits and suffrages as it were into the hands of the Blessed Virgin that she may distribute these favors to the Souls in Purgatory according to her own merciful pleasure.
Enriched with Indulgences 
The Heroic Act has been enriched with numerous indulgences by Benedict XIII (1728), Pius VI (1788), and Pius IX (1852). Priests who make it receive the personal privilege of gaining a plenary indulgence for a soul of their choice each time they say Mass. The lay faithful gain a similar indulgence each time they receive Holy Communion, also each Monday they hear Mass for the departed; in both cases, the usual visit to a church and prayers for the intention of the pope are required.
Heroic Act of Charity Prayer
"O my God, for Thy greater glory, and to imitate as closely as possible the generous Heart of Jesus, my Redeemer, and also to testify to my devotion to the Blessed Virgin, my Mother, who is also the Mother of the Souls in Purgatory, I place in her hands all of my satisfactory works, as well as the fruit of all those which may be offered for my intention after my death, that she may apply them to the Souls in Purgatory according to her wisdom and good pleasure. Amen."
Related Bible Verses
Luke 3:8 – Satisfaction: "Bring forth fruits worthy of penance (repentance)."
Hebrews 10:36 – Merit: "Endurance is necessary for you to do the will of God and receive the promise."
Jeremiah 31:16 – Reward: "There is a reward for thy work."
Sanctification (and Merit): Bible Verses
+JMJ+
Article Excerpts, Copyright: © New Advent LLC. All Rights Reserved.
Image: © Jason Koltuniak / What Color is Heaven?
Mass Cards: Request Perpetual Mass Enrollments or Mass Intentions or Gregorian Masses for Loved Ones.
Our Catholic Faith: Catechism of the Catholic Church (Vatican Website)
Watch all of our 2-minute, family life videos on the Eternal Word Television Network (EWTN).