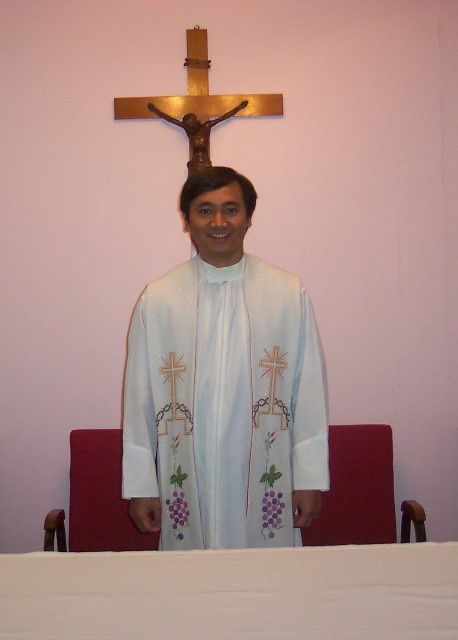 Father Peter Praseyto, M.S.F. is a priest of the Missionaries of the Holy Family from the Java Province of Indonesia. He arrived in Saint Louis, Missouri on December 10, 2014 to learn English and serve in the North American Province. He graciously answered some questions about his fascinating life. Where were you born? I was born on March 14, 1980 in the city of Sukoharjo, in the Central Java Province of Indonesia. I was ordained as a Priest of Jesus Christ on July 15, 2008 by Bishop Ignatius Suharyo (now archbishop) in Yogyakarta, Indonesia.
How many siblings do you have?
My father, Fredericus Samidi, is a teacher, who is already retired. My mother, Fredeswinda Sumarti, is a housewife. I have two sisters and two brothers.
My oldest sister is Fransisca Atik Krismarsiati, and she is a teacher. Her husband is Andreas Rundi, and he is also a teacher. They have three children: FX Fajar Indra Nugrahanta, Andre Rama Renauld Hans Odoric, and Skolastica Marella Devina Indriani. 
My older brother is Hugo Prasetyo Nugroho Hari Wibowo, and he is an entrepreneur. He married Veronica SH who worked at a garment factory. They have one son named Robertus Bagas Sunu Prasetyo.
My second sister (also older than me) is Fredeswinda Suryani. She's works in accounting, and she is married to Stefanus Sigit Adi Prasetya. Her husband is an employee in a private company. They have three children: Yohana Jennifer Melisa Prasetya, Agnes Monica Florecita Prasetya, and Dominicus Alfredo Orman Arka Prasetya.
My little brother is Yohanes Ari Karyanto. He works in a mining company. He married Margaretha Maria Alacoque who is working in a research and development laboratory. They do not have any children yet.
Where did you go to school as a child?
I went to a public elementary school in Sukoharjo. Then I attended Regina Pacis Catholic Junior High School and Pangudi Luhur Saint Josef High School. After finishing high school, I received a scholarship to attend Atmajaya Catholic University.
At the same time, I was also accepted by the Seminary Berthinianum to be a postulant of the Missionaries of the Holy Family. I needed to make a decision, so I prayed the "Novena 3 Salam Maria" or Novena of Three Hail Mary(s).
After time in prayer, I decided to decline the opportunity to become a university student, and I joined the Seminary Berthinianum in Salatiga.
Why did you become a missionary priest?
When I was kid, I often met with a Holy Family priest, a Dutch missionary who served in my parish. I was moved by his spirit of service, love, affection, and kindness, and this attracted me to the priesthood. I told my dad about this desire, and he gladly guided me to my vocation. My father is my hero.
When I was a child, I loved hiking and camping. Once, I saw the needs of people in an isolated forest, and I wanted to be a missionary to help fill the spiritual void due to a lack of priests. I chose the Missionaries of the Holy Family because of the combination of their family charism and missionary spirit.
How did you survive in the jungles of Papua New Guinea?
I survived because I loved the people. Even though the priests suffered physically, when we served the people well, we felt a joy beyond words!
Our happiness was not dependent on material comforts. We were fulfilled by serving, providing the Eucharist, and being shepherds to the people. I wanted to return to Papua New Guinea, but my superior had other plans for me.
Why are the poor the happiest of all people?
The poor are not obstacles, but it can be a challenge to serve them with a pure heart. True happiness is to be with them. The poor have authentic faith in God. They cannot repay us for our ministry, but, if they could, our services would be of no value. "Without cost you have received; without cost you are to give." Matthew 10:8
How did you avoid being eaten by crocodiles?
We served a large geographical area in Papua New Guinea with a lack of transportation. The only way to reach the entire territory was by foot, sometimes by walking for 12 hours. On long trips, we would be accompanied by young men who knew the land. They would show us the way through the middle of the heavy forest. Sometimes we had to swim across rivers filled with crocodiles.
The young men would trick the crocodiles by going downstream away from us, and then they would begin splashing the water. This would distract the crocodiles long enough for us to swim across the river.
What is your impression of the United States?
I realize that Indonesia has a reputation for terrorism, and that is why it was so difficult to get a Visa. I was determined to serve here even though there were many obstacles to overcome.
Initially, I was impressed because there are many Catholic churches. However, the overall number of Catholics who attend Mass is very small, and this makes me sad. Priests and people who are active in the Church, though, have great enthusiasm and high expectations.
In Indonesia, it is very difficult to get a license to build a church. Even so, every week there are so many Catholics at Mass that they are jostling each other in the Communion lines!
If God said that He would grant you one wish, what would it be?
I would ask the Lord to open the hearts of all Catholics, especially young people in America, to actively practice their Faith and to be involved in Church activities. God bless your family! +JMJ+
[Interview with Father Peter Prasetyo, M.S.F.]
Mass Cards: Request Perpetual Mass Enrollments or Mass Intentions for Your Loved Ones.